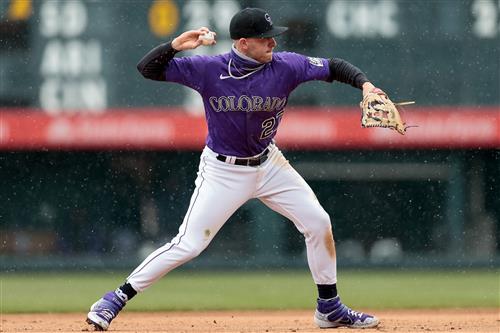 Every serious contender is likely to add pitching before the July 31 trade deadline, because every team could use a rotation or bullpen upgrade and there is likely to be a voluminous stock of arms available.
But the position player market is much more specialized, with a lot of contenders often bypassing an available star because they don't have a need at that particular spot. Which brings us to the very complicated circumstances surrounding the summer's best trade piece: Rockies shortstop Trevor Story.
Read More- Predicting The Big MLB Names Who Will Be Up For Grabs
He hasn't received the media attention of other shortstops, like the Cubs' Javier Baez or the Astros' Carlos Correa. But there is wide consensus among evaluators in the sport that Story is one of the game's best players, and he's headed for a huge payday in free agency next winter.
"I love me some Trevor Story," said one longtime scout. "Love everything about him -- his defense, his power, the way he plays. Everything."
During the offseason, former Colorado general manager Jeff Bridich informed interested teams that the Rockies' ownership would not approve a trade of Story. Rather, the organization's overriding hope was to keep Story and build around him, after trading Nolan Arenado (to the Cardinals, as it turned out). But there is no long-term deal in place with Story, and it's considered a fait accompli that at some point, interim GM Bill Schmidt will get the approval to move Story.
But where?
The options may be extremely limited, which is not to say that they won't get good prospect return for a coveted All-Star who could be difference-making in the second half and in the postseason.
But consider what baseball's front-runners already have:
The Dodgers have a shortstop -- Corey Seager.
The Braves have a shortstop -- Dansby Swanson.
The Phillies have Didi Gregorius, in the first year of a multiyear deal.
The Red Sox: Xander Bogaerts.
The Giants: Brandon Crawford, in the last year of his current deal.
The White Sox: Tim Anderson.
The Cardinals field Paul DeJong at shortstop and Arenado at third.
The Padres: Fernando Tatis Jr.
The Blue Jays: Bo Bichette.
The Nationals: Trea Turner.
The Mets: Francisco Lindor, a player in whom they just invested $341 million.
If the Astros remain in contention, they'd stick with Correa. If the Cubs continue to build on their recent success, they've got Baez.