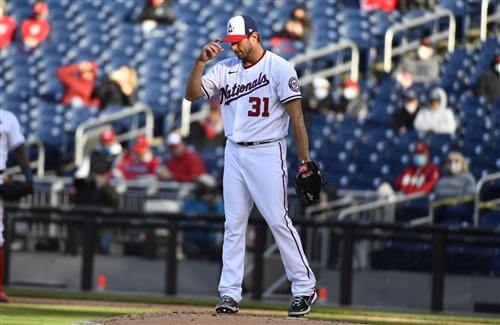 Could Max Scherzer be the next Justin Verlander?
No, we're not talking about their careers; both pitchers have already established themselves as future Hall of Famers, picking up multiple Cy Youngs and a World Series ring apiece.
But just as the Astros' 2017 trade for Verlander will long be remembered as one of the best in-season acquisitions in baseball history, might Scherzer have a similar impact a few months from now?
Nobody is counting the Nationals out after 16 games, especially not in a National League East separated by only a few games from top to bottom. But Washington's injury woes -- Juan Soto and Stephen Strasburg are both on the injured list -- and underperforming rotation have some wondering if the Nationals would look to deal Scherzer this summer if the season went awry.
"He's been such a force, he's almost in a better spot than Verlander was in 2017, because Verlander wasn't pitching this well for the Tigers for the two years leading up to that Deadline," an American League executive said. "Those two carry the same kind of fire-breathing impact at the top of a rotation."
Scherzer, who is slated to become a free agent at the end of the season, has full no-trade rights as a 10-and-5 player, giving him the power to control his destiny between now and the July 30 Trade Deadline (yes, it's July 30 this year, at 4 p.m. ET). He'll turn 37 in July, so the idea of joining a contender if the Nationals are out of the postseason race doesn't seem so far-fetched.