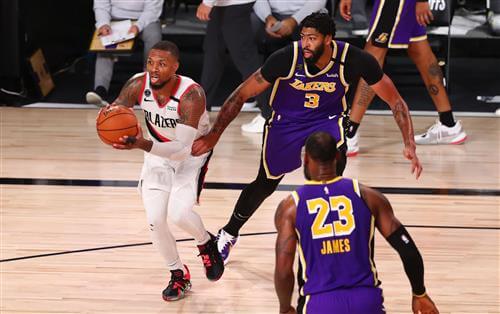 Anthony Davis and Damian Lillard both entered the league via the 2012 Draft and have asserted themselves as two of the best players in the NBA. Anthony Davis is an 8-time All-Star and 4-time All-NBA Team performer who holds career averages of 23.9 PPG and 10.2 RPG. As both a superstar for the New Orleans Pelicans and Los Angeles Lakers, Davis has been arguably the best big man in the NBA.
Of course, Davis captured the 2020 NBA championship for the Lakers alongside LeBron James. Meanwhile, Damian Lillard has blossomed into a top-2 point guard in the NBA. After Stephen Curry, it is clear Lillard is the most impactful point guard in the game. Lillard has made 6 All-Star Teams and 5 All-NBA Teams while carrying the Portland Trail Blazers on his back every single season.
The Lakers and Trail Blazers were defeated in the first round of the playoffs and big changes are expected to be made on both rosters. Lillard clearly doesn't have any help and is being linked with a move to Los Angeles. For the Lakers, acquiring Lillard could get their best bet at winning another title and also finding their long-term solution. But should the Lakers change the entire landscape of the NBA and trade Anthony Davis for Damian Lillard? Here are the pros and cons of this mega-deal.
The Cons Of Trading Anthony Davis For Damian Lillard
Anthony Davis Is 3 Years Younger
The first con of trading Anthony Davis for Damian Lillard is losing 3 years off a superstar player's career. Davis is only 28 years of age and already has 8 All-Star Teams under his belt. Since he completed his teenage years, he has been a franchise star in the league.
Meanwhile, Damian Lillard is 31 years of age and possibly has a handful of years left as a superstar player. The Lakers have a chance at having a top-10 player in the game for 3 extra years after LeBron James retires, something they must consider if they try to win now with Damian Lillard on the roster.