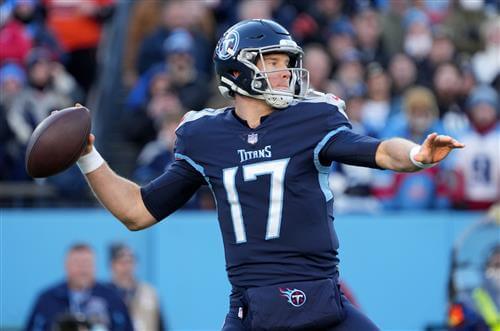 The 2021 Titans won the AFC South for a second straight year, captured more victories than any conference contender except for the Chiefs and enjoyed a first-round bye as the No. 1 seed, only to fall flat in their Saturday night playoff debut, losing 19-16 to the upstart Bengals in Tennessee. And quarterback Ryan Tannehill, the catalyst of the team's transformation to contender a few years ago, was the chief culprit of the Titans' postseason disappointment for the second time in as many years.
A year after he and the Titans mustered just 13 points in a wild card loss to the Ravens, Tannehill saved one of his worst games of a mistake-riddled 2021 for the biggest spotlight, throwing three picks -- his most since a four-interception outing in November -- and struggling to capitalize on Tennessee's historic defensive showing, including a playoff-record nine sacks. His first pick came on the very first play of the game, helping Cincinnati take an early advantage, and his second marked his fourth red-zone INT of the season, leading all NFL QBs.
Tannehill's career remains a triumph, going from Dolphins castoff to Comeback Player of the Year. And his total body of work in Tennessee is that of a top 10 QB: Thirty wins in 43 starts, 76 touchdowns to just 27 interceptions, a 102 passer rating. His contract -- a four-year, $118 million deal that runs through 2023 -- pays him like the NFL's 11th-best signal-caller, which is about right.
But Tannehill is also 0-3 in his last three playoff starts as the Titans QB. He's chiefly responsible for their last two defeats, despite owning home-field advantage. In each of Tennessee's two playoff wins with Tannehill, by the way, the QB didn't throw more than 15 passes. He shouldn't necessarily be docked for leaning on Pro Bowl teammates like Derrick Henry, but then there's the 2021 season as well: even with Henry, D'Onta Foreman or Dontrell Hilliard powering the run game, Tannehill endured steep regression, totaling 18 turnovers -- fourth-most among all QBs -- compared to just 21 TDs in 17 games.