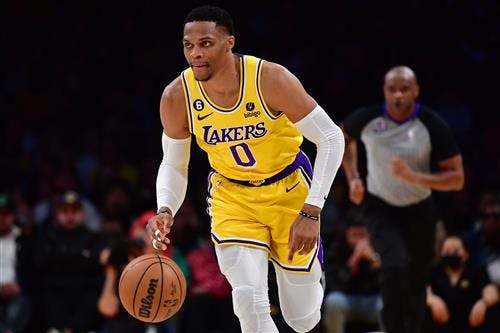 Russell Westbrook on the Chicago Bulls isn't the worst idea.
The reason is simple: The Bulls are desperate and, after another dormant trade deadline, in need of direction.
As a star player potentially on the cusp of becoming available via buyout, Westbrook suddenly represents the path of least resistance. Unlike in 2020, when Westbrook wanted out of Houston, his interests now better align with the Bulls.
It seems only a matter of time before the two sides unite and attempt to save each other from a forgettable season. There is reported mutual interest between Westbrook, 34, and the Miami Heat, as well as the LA Clippers.
Westbrook, a flawed and fading future Hall of Famer set to suit up for his fifth franchise, is a headstrong individual who likely feels he has plenty left to offer. He was traded from the Los Angeles Lakers to Utah last week, ending a tumultuous two-season tenure with his hometown franchise. Meanwhile, the Bulls are floundering and flirting with failing to qualify for the Play-In Tournament. They enter Monday's matchup against Orlando in 10th place at 26-30.
While the plights and potential marriage might be imperfect, it reminds us of Westbrook's motto: "Why not?"
We'll soon learn whether the Bulls get it done. Here are five pros and five cons of Chicago adding Westbrook as a midseason boost.
Pros
Westbrook is an upgrade: There is no denying this fact. Second-year point guard Ayo Dosunmu has underwhelmed as the fill-in for Lonzo Ball, and the Bulls don't have many other options. Alex Caruso is better off the ball. Coby White seems to have lost the trust of the coaching staff operating as the lead facilitator. Westbrook would improve stability at the position. If the Bulls land Westbrook and a two-dozen-game trial goes well, who's to say Westbrook and the Bulls don't re-up next season? Ball's return remains up in the air, and even when he returns, the Bulls need additional backcourt talent. Westbrook isn't the ideal fit. But he's become the best available. And the Bulls are in no position to turn down talent.