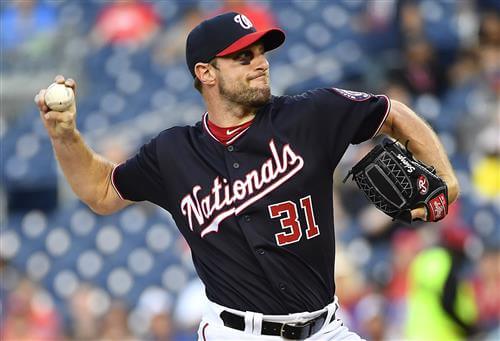 It's a safe guess Major League Baseball megastars such as Mike Trout, Christian Yelich, Cody Bellinger and Alex Bregman won't be available ahead of the July 31 trade deadline.
There are otherwise plenty of stars who will be—and quite a few unexpected ones who just might be.
Our focus here is on the latter group. We've rounded up 10 stars who wouldn't seem to be obvious trade candidates, yet whose names are nonetheless popping up in rumors and speculation. Surprising though this may be, we've discussed why it makes sense for each player.
We'll go roughly in order from least shocking name to most shocking name.
Trey Mancini, OF/1B, Baltimore Orioles
The Baltimore Orioles don't need to trade Trey Mancini.
In putting up a .936 OPS and 36 extra-base hits, the 27-year-old has thus far been a bright spot on a club that's on track for a second straight season of 110-plus losses. He's also under club control through 2022.
But when Orioles general manager Mike Elias was asked point-blank about the possibility of trading Mancini, he didn't shut the door on the idea.
"We're not looking to part with Trey. That said, as I've said all along, we're open to anything," he said, per Roch Kubatko of MASNSports.com.
Because they're only about a year into a full-on rebuild, the Orioles mustbe open to anything. The idea in the short-term is to cultivate an elite farm system, and the one they have right now only ranks as the No. 13 systemin MLB.
A trade of Mancini would potentially do more for the Orioles' farm system than a trade of anyone else on their major league roster. They'll have to seriously consider any offers that come along.
Whit Merrifield, INF/OF, Kansas City Royals
Whit Merrifield has been a regular in trade rumors over the last several years, but the Kansas City Royals have generally been adamant about keeping him.
"We've pretty much made it clear we want Whit Merrifield to be part of our team," general manager Dayton Moore said last December, per Jeffrey Flanagan of MLB.com. He later put his money where his mouth is by signing Merrifield to a four-year extension in January.
Yet the Royals may be softening their stance. According to Mark Feinsandof MLB.com, they've indicated to potential trading partners that only shortstop Adalberto Mondesi and third baseman Hunter Dozier are truly off-limits.
Evidently, the Royals understand they have a long way to go with their rebuild. They're on track for a second straight season of more than 100 losses. Meanwhile, their farm system checks in at No. 19 in MLB.
Since he's already on the wrong side of 30, Merrifield figures to be past his prime by the time Kansas City's rebuild is finished. In the meantime, his trade value is boosted by more than just his team-friendly contract. His .805 OPS and 11.1 wins above replacement since 2017 are also factors.
Hunter Renfroe, OF, San Diego Padres
Unlike the Baltimore Orioles and Kansas City Royals, the San Diego Padres are closer to the end of their rebuild than they are to the beginning of it.
Despite a recent slide, they're still a semi-respectable 35-37 on the season. Hunter Renfroe has done his part. The 27-year-old slugger is building on a solid 2018 season with a .952 OPS and 23 home runs, plus well-above-average defense in left field and right field.
Yet according to Ken Rosenthal of The Athletic, Renfroe is "quite popular" in trade discussions. Moreover, Kevin Acee of the San Diego Union-Tribune reported the Padres are indeed willing to trade him.
They don't have to, given that Renfroe is under their control through 2022. And since the Padres have baseball's No. 1 farm system in addition to a solid major league roster, they're all but certain to be legitimate contenders before then.
But in light of his .298 career on-base percentage, Renfroe arguably fits the bill of a nice guy to have rather than a long-term building block. They might be able to swap him in a deal that brings back a more crucial puzzle piece.
Kole Calhoun, RF, Los Angeles Angels
The Los Angeles Angels' 35-37 record makes them an afterthought in the American League West, but not so much in a wide-open race for the AL's second wild-card spot.
Although he's no Mike Trout or Shohei Ohtani, Kole Calhoun is having a big hand in keeping the Angels in the race. The 31-year-old right fielder has rebounded from a rough 2018 season with a solid .788 OPS and 14 home runs.
Yet it's not out of the question that the Angels will shop him anyway.
They may not be out of the AL playoff picture, but there's no ignoring that they're no better this year than they were in 2017 or 2018. If they take that as a signal significant changes are needed, well, MLB.com's Mark Feinsand is right that Calhoun would be their best trade chip.
Moreover, the clock may be ticking for the Angels to get something for Calhoun. The longer they hold onto him, the more they risk him falling into another slump like the one that derailed his 2018 season. He's also in the last year of his contract, and whether he's worth his $14 million option for 2020 is already debatable.