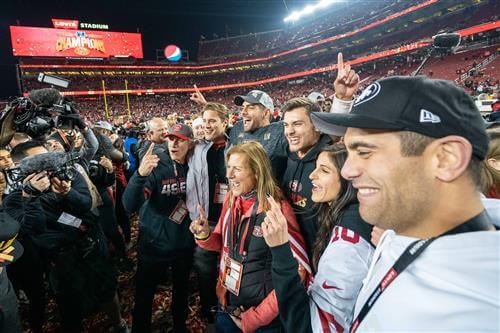 The 49ers didn't simply run the ball effectively during last season's NFC Championship Game; they ran it down the Green Bay Packers' throats.
Forty-two rushes for 285 yards and four touchdowns on the ground. Raheem Mostert accounted for all of the scores and the vast majority of the yardage, as he reeled off long run after long run. San Francisco had so much success on the ground that quarterback Jimmy Garoppolo only attempted eight passes in the entire game.
The final score of 37-20 didn't adequately reveal the 49ers' dominance. The game was over by halftime, when San Francisco held a 27-0 lead. The Packers' defense had no answer for Kyle Shanahan's play-calling, and Green Bay's defensive coordinator Mike Pettine went into somewhat of a hiding after they had been eliminated.
Pettine made his first public comments since the NFC Championship Game on a conference call with local reporters Friday, and he described the Packers' performance as "beyond disappointing" and "a tough pill to swallow" (H/T Zach Kruse, Packers Wire). It's certainly not a favorite memory of his, but he insists Green Bay will continue to use it as a learning experience.