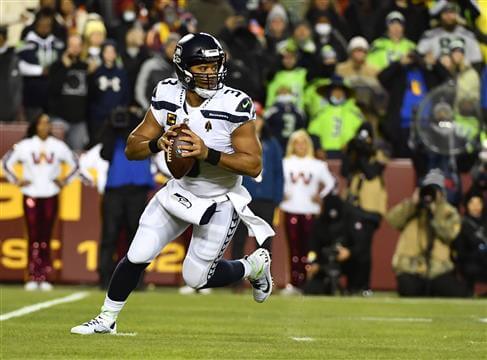 Russell Wilson seems set to become the next star quarterback on the trade market. He spent his offseason publicly criticizing the Seattle Seahawks front office. Ian Rapoport said before the year began that if things don't go well in 2021, the Seahawks could look into trading Wilson. Then the superstar suffered the first major injury of his NFL career and missed five weeks. He played very poorly in the two games after returning and Seattle is now 3-8 with almost no shot at the playoffs.
It's a lost year for the team, but the fact that it was mostly due to Wilson's finger injury may spur both sides to give their partnership another go-around in 2022, when everyone is healthier and the Seahawks add more reinforcements in the offseason. But that's no fun to talk about, so our attention is instead turned towards where Wilson could head this offseason should Seattle decide to auction off his services.
One team that has been popping up with regularity is the New York Giants. ESPN did a segment on it today with Tim Hasselback, and CBS Sports' Jonathan Jones noted it's a possibility.
The motivation on New York's side obviously makes sense. The Giants need an elite quarterback if they want to turn this team around in short order. Daniel Jones has been serviceable at times but clearly does not have a high ceiling. The roster around him is not nearly good enough to make up for his shortcomings. Most importantly, the Giants have two first-round picks in this year's draft, and both are currently projected to end up in the top-10 selections. If Seattle is looking to kick-start their rebuild, they could do much worse than starting with two high picks, especially since they owe their own first-rounder to the New York Jets.