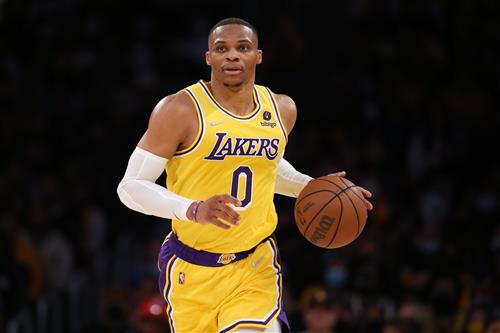 The fundamental obstacle standing between the Los Angeles Lakers and a Russell Westbrook trade is one simple question: Why would any other team want him? He's set to make $47 million next season. He's never been able to shoot. Not even joining LeBron James and Anthony Davis could compel him to cut and defend and improve his shot-selection. He's not even a particularly dangerous driver anymore. In 2020, he finished second in the league with 10.5 shots in the restricted area per game. He fell down to 6.9 last season, and his field goal percentage on such shots dipped by two and a half percentage points. Westbrook will turn 34 early next season and his game is extremely reliant on a brand of athleticism that has already started to fade. No team that is interested in winning next season is going to trade for him. If the Lakers are going to move him, the acquiring team has to have some other motivation for acquiring him.
The Indiana Pacers are one of only three teams to never have had a former NBA MVP winner on their roster. The other two, the Charlotte Hornets and New Orleans Pelicans, have at least had players who earned First-Team All-NBA status. No Pacer has ever achieved that either, and only one former Pacer (Paul George) has managed to do so after leaving the team. Aside from brief coaching stints from Larry Bird and Isiah Thomas, they've never exactly been a team that was known for employing famous people.
It shows in how they're treated by fans. The Pacers ranked last in the NBA in home attendance last season, according to ESPN. You don't see many Pacers jerseys at arenas outside of Indianapolis, either. When they aren't competing for a championship, relevance has been pretty hard to come by. Is that a good reason to trade for Westbrook? Probably not, but for a Pacers team that would probably prefer to take a gap year or two before trying to win in earnest, it's a selling point to one of the NBA's cheapest and most stubborn owners.
"I don't want to see it," team owner Herb Simon said of tanking and rebuilding during the season. "And if I don't want to see it, the fans don't want to see it. Why would we want to go through a rebuild when we can build on the go? That's the talent. Donnie [Walsh] did it all the time. Larry [Bird] did it. Kevin [Pritchard] will do it. We can do it."
Well, let's say Pritchard, the team president, wants to stay in the lottery for another year. He knows he can't sell Simon on an aggressive teardown … but trading for Westbrook? That's the acquisition of a distressed asset, not to mention perhaps the most famous player ever to wear a Pacers uniform. We're not tanking. No sir, we just added a former MVP that we can build our entire marketing and season-ticketing campaign around. And if it happens to help us pick up some extra draft capital, clear the long-term deals of Malcolm Brogdon and Buddy Hield off our books so we can use max cap space in the summer of 2023, and then hand the backcourt fully over to youngsters Tyrese Haliburton and Chris Duarte after that? Then all the better. So let's imagine a world in which the Lakers have greased the trade wheels with enough draft picks to convince the Pacers to take on Westbrook. How would Brogdon and Hield fit on the 2022-23 Lakers, and where would the purple and gold go from there?
Offense
If you've been clamoring for the Lakers to prioritize shooting over the past few years, then boy, do I have some good news for you. Hield might immediately become the greatest 3-point shooter ever to wear a Lakers uniform, and Brogdon would be very high on the list of shooters the Lakers have acquired during the LeBron era. Neither has ever played with a shot-creator like James. They've combined to shoot over 40 percent on wide-open 3's seven times over the past five seasons.