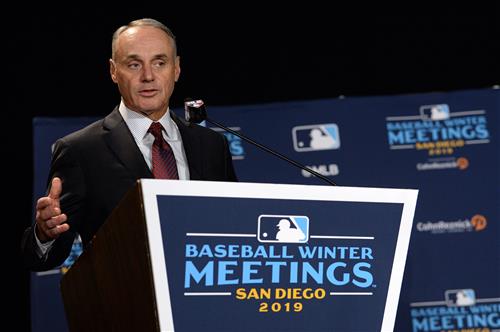 Major League Baseball and its players' union reached agreement Tuesday on the format for the expanded, 16-team postseason, which will see the final three rounds played in controlled, neutral-site bubbles in Southern California and Texas and the World Series at the Texas Rangers' new stadium in Arlington.
The World Series and League Championship Series also could allow a limited number of fans — the first fans to see live baseball since spring training was cut short by the novel coronavirus pandemic in mid-March — according to comments Commissioner Rob Manfred made during a virtual panel event Monday night conducted by Hofstra University's business school.
Under this year's postseason format, the eight best-of-three opening-round series will be played at the home stadiums of the better-seeded team. The remaining teams will then move into the bubbles, with the two American League Division Series played at Dodger Stadium in Los Angeles and Petco Park in San Diego and the NL at Houston's Minute Maid Park and Arlington's Globe Life Field. The respective LCS would then be played in San Diego and Arlington, with Game 1 of the World Series in Arlington on Oct. 20.
Because the latter rounds will be played at neutral sites, MLB has eliminated travel days for the Division Series and LCS, meaning the former will be played over five consecutive days and the latter over seven. The World Series, per tradition, will retain its days off between Games 2 and 3 and between Games 5 and 6, even though all those games will be played in Arlington. Game 7 of the World Series, if necessary, would be Oct. 28.