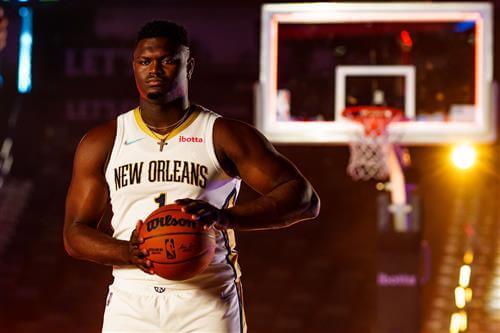 As news of Zion Williamson's latest injury setback trickled out of New Orleans last week, league personnel once again began to speculate on the looming 2022 extension talks between the New Orleans Pelicans and their 2019 No. 1 draft choice.
This is not to say Williamson already has one foot out the door. No top pick in league history has chosen the qualifying offer with a one-year path to unrestricted free agency, versus a maximum contract extension projected to eclipse $200 million over five years. Yet this is how the modern NBA world turns. Front offices are as forthright as ever about scheming to land an alpha like Williamson from a downtrodden rival, and player movement has become equally as fluid.
It's hard not to see the early parallels between Williamson's status in New Orleans and that of Ben Simmons in Philadelphia, where there were once nearly identical rumors about the 2016 top pick potentially taking his own qualifying offer to reach the open market. Simmons eventually accepted Philadelphia's contract and $177 million that same summer New Orleans selected Williamson, but that has meant nothing throughout this ongoing trade-demand saga.
Until Williamson puts pen to paper in July, rival front offices will hope and prepare for the possibility of a Zion free-agency frenzy come 2024. And even if Williamson does re-sign, teams will keep a radar trained onto New Orleans in hopes he seeks a trade like Simmons, just as Chris Paul and Anthony Davis did in NOLA before him.
This is the ever-important backdrop behind last Thursday's news that Williamson won't appear in New Orleans' season opener Wednesday against Philadelphia, as part of a two-week-plus setback in his return from offseason foot surgery. There's a strong belief in league circles that the Pelicans were unaware of that procedure until Williamson reported to New Orleans ahead of media day, although one team source contacted by B/R maintained the Pelicans and Williamson were aligned on the injury's timeline.
Before Pelicans executive vice president of basketball operations David Griffin addressed reporters last Thursday, word was already circling around the league that Williamson was unlikely to make his 2021-22 debut before November, at the earliest. It was even known in rival front offices that Griffin planned to speak on the matter rather than issue a press release. This all comes after league figures raised a collective eyebrow when Griffin blamed Williamson's season-ending finger injury on poor officiating.