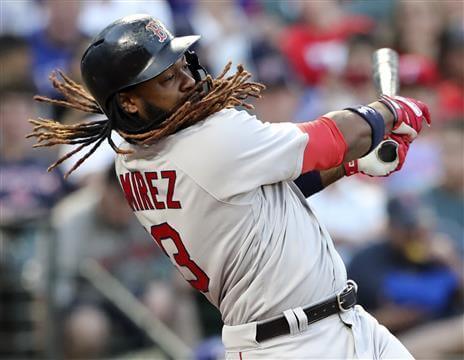 After the 2014 season, the Red Sox signed Hanley Ramirez to play left field. In 2018, the end of his tenure feels as if it has come out of the same position.
According to a major league source, the Red Sox informed Ramirez Friday morning that they will designate him for assignment in order to open a spot on the major league roster for Dustin Pedroia, who is returning from the disabled list after his rehab from offseason knee surgery.
The Red Sox are responsible for more than $15 million remaining on Ramirez's salary through the duration of this season. They will have seven days to trade or release him.
The decision to part ways with the 34-year-old Ramirez may avoid a potentially awkward situation related to his $22 million vesting option for 2019. With a total of 497 plate appearances this year, Ramirez would have been guaranteed another $22 million next season. He'd already accumulated 195, putting him on pace to blow past the required number to secure his salary for next season.
The Sox were prepared to let Ramirez stay in the lineup and let the option vest if his production warranted it. But after he went 0 for 4 with three strikeouts Thursday, he is now hitting .254/.313/.395 for the season, with a .708 OPS that ranks 30th among 44 first basemen with at least 100 plate appearances.