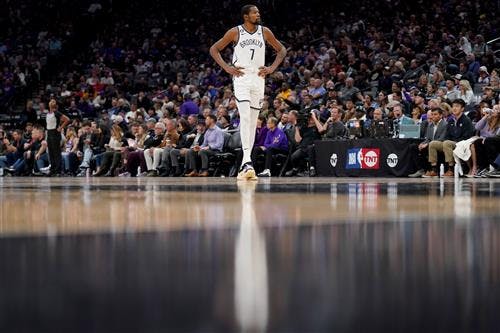 With the Brooklyn Nets (6-9) struggling, will Kevin Durant revisit his offseason trade demand?
In a wide-ranging interview with Bleacher Report's Chris Haynes, Durant shared his thoughts on the team's recent struggles:
"Look at our starting lineup. Edmond Sumner, Royce O'Neale, Joe Harris, [Nic] Claxton and me. It's not disrespect, but what are you expecting from that group?"
Durant didn't ask for a trade again—at least not yet.
But if the Nets continue to flounder, what would the team be looking at in return before the February 10 deadline if he did?
The following is a list of what the Nets might see in the trade market, ranked by best potential return and the theoretical likelihood of a generous offer.
Raptors Unlikely to Offer Scottie Barnes
The chance to get Durant would inspire any team to give up its top prospect, correct? Not so fast.
The market determines the price, and few teams have the combination of draft assets, young stars and matching salaries that appeal to the Nets like the Raptors.
Brooklyn might demand Barnes, but Toronto may have the best offer with OG Anunoby and multiple first-round picks (up to four available, along with three potential swaps). Durant, whose contract runs through 2025-26, is at $44.1 million for the current season. An acquiring team must send at least $35.2 million to match his salary.
The Raptors need to include additional players that could consist of key rotation pieces like Fred VanVleet, Gary Trent Jr. or a combination of role players and prospects like Precious Achiuwa, Malachi Flynn, Dalano Banton, Khem Birch, Thaddeus Young and/or Chris Boucher.
But expect the Raptors to draw the line on Barnes.
Suns with Bridges and Picks
Like the Raptors, the Phoenix Suns have their first-round picks to offer (four outright, plus three swaps). Mikal Bridges stands out as the obvious piece in a deal for Durant. His $20.1 million gets Phoenix most of the way there, but what about young center Deandre Ayton?
Since Phoenix matched the Indiana Pacers' offer sheet this summer, Ayton can block any trade. Ayton would have to approve a deal to the Nets, and that's not a given.
Others who could round out the salaries could include Jae Crowder, Dario Šaric and Cameron Johnson (currently out with a knee injury). If the picks are the same from Toronto or Phoenix, the question would be Anunoby or Bridges—and then the ancillary pieces, where arguably the Raptors have the edge.
How willing should any team be to unload its draft capital on Durant? He's a win-now player but is he worth the kind of haul the Utah Jazz got for Donovan Mitchell and Rudy Gobert? He's the better player of the three, but he's also the eldest.
The answer probably determines which team gets a deal done should Durant push for a trade.