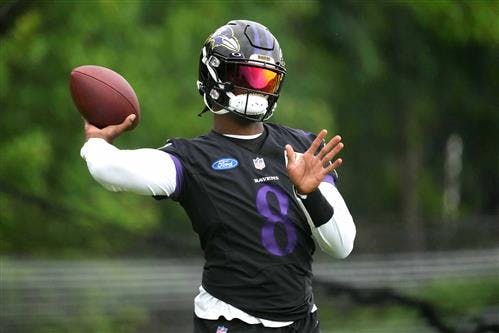 Baltimore Ravens quarterback Lamar Jackson does not plan to negotiate a new contract once the 2022 NFL regular season begins.
According to Ryan Mink of the team website, Jackson said Saturday that Week 1 is his cutoff for contract talks.
Per ESPN's Jamison Hensley, Jackson responded, "Yeah, for sure," when asked if he wants to get a deal done before the start of the season.
Jackson, whose rookie contract is set to expire at the conclusion of the 2022 season, also noted there were no updates regarding where talks stand.
Since the end of last season, Deshaun Watson and Kyler Murray have signed huge contract extensions, making them two of the highest-paid quarterbacks in the NFL.
Jackson has enjoyed more success than both of them, which has undoubtedly given him leverage and perhaps made it even more difficult for the Ravens to sign him to a deal they feel comfortable with.
The 25-year-old Jackson was the No. 32 pick in the 2018 draft, and he has far exceeded expectations.