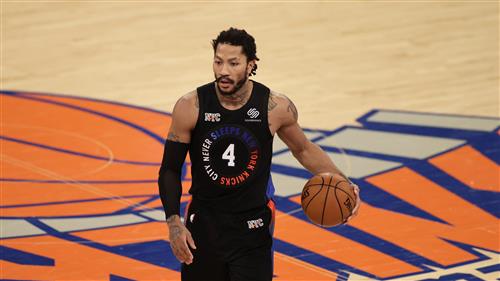 Derrick Rose and Tom Thibodeau seem to have an inseparable bond that causes them to gravitate toward each other no matter where they both are. Will the pairing continue beyond the 2020-21 NBA season? Many teams around the league will look to break them up.
During the 2020-21 campaign, the New York Knicks traded for Rose — who was on the Detroit Pistons — in Thibodeau's first year as head coach in New York.
It marked the third team that Rose had played for that Thibodeau coached, with the Chicago Bulls and the Minnesota Timberwolves being the other two teams.
Following a productive year with the Knicks, Rose is set to enter NBA free agency as an unrestricted free agent this offseason. There will be no shortage of interested suitors in pursuing him with plenty of contenders in the mix.
With a plethora of teams searching for a point guard, New York will certainly have competition in signing the veteran point guard this summer.
In a hypothetical situation where the Knicks fail to get a deal done, here are the top five potential free-agent destinations for Rose, ranked from last to first.
Dallas Mavericks
It's no secret that the Dallas Mavericks are seeking to find a player — preferably a point guard — that can handle the ball and operate the offense alongside Luka Doncic.
While Doncic has been superb as the main ball-handler, the Mavericks need someone that can ease some pressure off of him to make them less predictable on offense. And besides being able to orchestrate the offense, the Mavericks' desires someone that is able to knock down three-point shots.
Rose fits the description of what the Mavericks are looking for at the point guard position, but does Dallas have confidence in Jalen Brunson to be promoted to a starter?
If not, Brunson can remain on the bench and Rose could slide into the starting lineup alongside Doncic.
Amid all of the turmoil going on in Dallas, getting Rose and another star or two this offseason could put the Mavericks in a good spot to convince Doncic to sign his max extension with the organization.