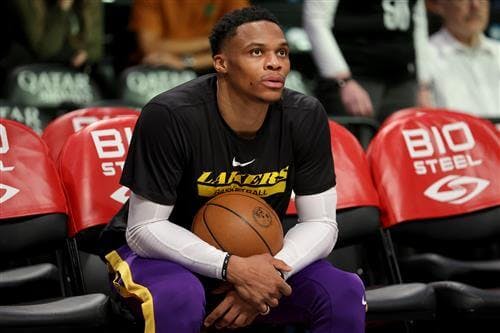 Ever since the Utah Jazz acquired Russell Westbrook ahead of the NBA trade deadline, a buyout and relocation has felt inevitable.
On Thursday, a week after the move, we got an influx of information on Westbrook's potential landing spots.
"The Los Angeles Clippers have begun conversations with Russell Westbrook," The Athletic's Shams Charania and Law Murray reported. "Clippers received permission to speak to Westbrook and talks have started among franchise officials."
Shortly thereafter, ESPN's Adrian Wojnarowski reminded us that the Chicago Bulls, Washington Wizards and Miami Heat could also be in the mix.
But which spot makes the most sense? With less than two weeks before the March 1 deadline for Utah to release Westbrook and preserve his postseason eligibility for his next team, we'll rank the best landing spots for the one-time MVP based on fit and need.
4. Los Angeles Clippers
It's tempting to attach every available big name to a big market. And while there's no reason to doubt Charania's reporting or L.A.'s interest in Westbrook, there are plenty of reasons to doubt his fit there.
One of the reasons it didn't work with the Los Angeles Lakers was Westbrook's need to dominate the ball. And I do mean need.
Russ might not have even desired the kind of usage he had with the Wizards, Houston Rockets and Oklahoma City Thunder. In fact, he did a pretty good job of accepting and acclimating to a bench role this season.
But he's most effective when he can command an offense, and his opportunities to do so were always going to be limited alongside LeBron James and Anthony Davis. When he's on the floor with other ball-dominant players, it's a problem.
In the five-plus seasons since he won MVP, Westbrook has only hit 29.3 percent of his three-point attempts. His inability to shoot is clearly known throughout the league, and opposing defenses are plenty comfortable sagging off him and crowding driving lanes.
That plagued LeBron and AD in the same way it would Kawhi Leonard and Paul George for L.A.'s other team.
The fifth-place Clippers' recent ascent in the Western Conference standings has coincided pretty well with the insertion of Terance Mann into the starting five as a nominal point guard. He doesn't handle the ball much, but that simply opens possessions for the stars. And his 38.2 three-point percentage is good enough to keep his defenders honest when Kawhi or PG create.