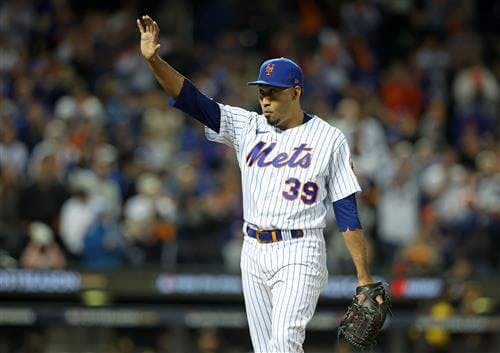 Edwin Díaz is about to get paid.
The right-hander has always had electric stuff dating back to his time with the Seattle Mariners, and that stuff was on full display in 2022 when he struck out 118 of the 235 batters he faced out of the New York Mets bullpen.
The 28-year-old finished with 32 saves to go with an impressive 1.31 ERA, 0.84 WHIP and 17.1 K/9 in 61 appearances, and he's likely to command a record-setting payday for a relief pitcher this winter.
Every team would benefit from adding him, but only a handful of teams are willing and able to pony up the kind of money it will cost to sign him.
Ahead are his 10 most likely landing spots, based on spending power, roster need and ability to contend in 2023 and beyond. Let's start with a closer look at his potential asking price.
What Will It Cost to Sign Him?
The largest contract ever for a relief pitcher was the five-year, $86 million deal that Aroldis Chapman signed to rejoin the New York Yankees after his 2016 World Series run with the Chicago Cubs.
The highest annual value ever given to a reliever was the three-year, $54 million contract ($18 million AAV) that Liam Hendriks signed with the Chicago White Sox prior to the 2021 season.
Expect Díaz to break both of those marks.
Here's a look at how each of those pitchers performed in their contract year:
Díaz (2022): 61 G, 32/35 SV, 1.31 ERA, 0.84 WHIP, 2.6 BB/9, 17.1 K/9
Chapman (2016): 59 G, 36/39 SV, 1.55 ERA, 0.86 WHIP, 2.8 BB/9, 14.0 K/9
Hendriks (2020): 24 G, 14/15 SV, 1.78 ERA, 0.67 WHIP, 1.1 BB/9, 13.1 K/9
Looking beyond the numbers, Díaz is the same age that Chapman was when he signed his record-setting deal, so five years is a logical expectation on length.
With all of that in mind, a five-year, $100 million deal seems like a reasonable ask for arguably the most dominant reliever in baseball in his prime.
10. Arizona Diamondbacks
The Arizona Diamondbacks have a lot of promising young pieces both in the starting lineup and in the rotation, but the bullpen needs work.
Veterans Mark Melancon (62 G, 18 SV, 4.66 ERA) and Ian Kennedy (57 G, 10 SV, 5.36 ERA) handled ninth-inning duties this past season, and while Melancon is set to return for the second season of a two-year, $14 million deal, relying on him to anchor the bullpen might be asking too much.
All told, the D-backs bullpen finished 25th in the majors with a 4.58 ERA while converting just 33 of 60 save chances, so there's ample room for improvement.
The Arizona front office has shown a willingness to spend big in the past, giving out megadeals to Zack Greinke and Madison Bumgarner to bolster the rotation, so they can't be ruled out as dark horses in pursuit of a massive bullpen upgrade.