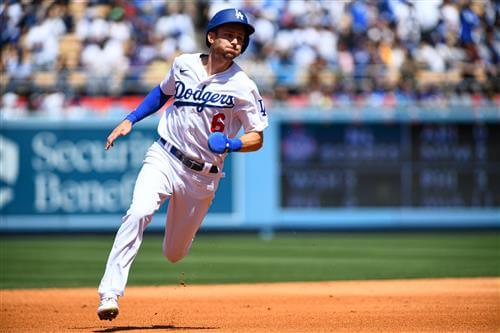 Following a loaded 2021-22 MLB free-agent class, this upcoming offseason could be a letdown by comparison, but that's not to say big names couldn't change teams.
Los Angeles Dodgers shortstop Trea Turner and New York Yankees right fielder Aaron Judge are the biggest names set to hit the open market, and a solid list of quality starting pitchers includes Joe Musgrove, Noah Syndergaard, Sean Manaea, Chris Bassitt, Nathan Eovaldi and Clayton Kershaw.
Ahead we've laid out our preliminary ranking of the top 25 free agents based on expected production, age and potential earning power.
These rankings will be updated each month throughout the season, and 2022 performance will become a bigger factor as sample sizes grow.
Players with opt-outs and team or player options were not included, but the notable opt-outs are listed separately along with some honorable mentions.
Off we go.
Notable Opt-Outs and Honorable Mentions
Opt-Outs
RHP Trevor Bauer
SS Xander Bogaerts
SS Carlos Correa
RHP Jacob deGrom
1B Eric Hosmer
LHP Carlos Rodon
Honorable Mentions
1B Brandon Belt
LHP Aroldis Chapman
OF Adam Duvall
2B Adam Frazier
RHP Kyle Gibson
RHP Chad Green
RHP Zack Greinke
1B Yuli Gurriel
RHP Corey Knebel
DH Trey Mancini
DH J.D. Martinez
OF Tyler Naquin
LHP Drew Smyly
RHP Jameson Taillon
RHP Michael Wacha
RHP Adam Wainwright
25. LHP Andrew Heaney (Age: 30)
Heaney allowed just four hits and three walks while striking out 16 in 10.1 innings over his first two starts in a Dodgers uniform before landing on the injured list with shoulder discomfort. The left-hander has always had swing-and-miss stuff, including 150 strikeouts in 129.2 innings last year. As long as the shoulder soreness doesn't turn into a bigger issue, he can boost his stock considerably in the coming months.
24. RHP Chad Kuhl (Age: 29)
Kuhl was non-tendered by the Pirates at the start of the offseason, which is never a great sign. However, he caught on with the Rockies on a one-year, $3 million deal, and he has been a big part of Colorado's surprising early success. He has a 1.10 ERA and 2.77 FIP in 16.1 innings through his first three starts, and his age gives him more earning upside than some of the other veteran starters on the honorable mention list.
23. IF/OF Enrique Hernandez (Age: 30)
Fresh off a 4.9-WAR performance in his Red Sox debut season, Hernandez is off to a slow start at the plate this year, and he could have a tough time duplicating last year's success. That said, his defensive versatility and postseason experience still hold significant appeal, and he should be able to secure another multiyear pact.