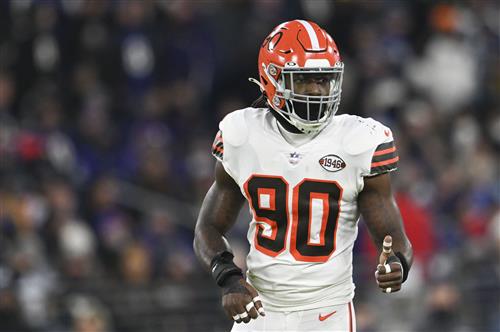 J.C. Jackson, Marcus Williams, Von Miller and Chandler Jones are among the best NFL free agents who have found a home, but there are plenty of quality options left to pursue.
Offensive tackle Terron Armstead was the top player on the board until the Miami Dolphins swiped him on Tuesday. Other big-name talents—such as Stephon Gilmore, Tyrann Mathieu, Odell Beckham Jr. and Jadeveon Clowney—are now the featured players.
The longer these players are unsigned, the more probable it is a few of them agree to a smaller deal than anticipated. However, most of them are likely headed for a high-dollar deal in the near future.
The choices are subjective, but they're based on a player's performance in recent seasons and expectations for 2022.
10. Julio Jones, WR
Consider this an upside play.
Jarvis Landry is a safer, low-efficiency option and shouldn't cost a ton. Julio Jones is only two years removed from being an All-Pro receiver, and he could regain that form if he's healthy—"if" being the operative word.
Health is the obvious risk for Jones; he missed seven games in each of the 2020 and 2021 campaigns. In his 19 appearances, though, Jones notched 82 receptions for 1,205 yards and four touchdowns.
Jones' best options seem to be reuniting with San Francisco 49ers coach Kyle Shanahan or bolstering the New England Patriots' receiving corps.
9. Duane Brown, OT
Does your favorite team need a left tackle but couldn't afford Terron Armstead? They've probably thought about Duane Brown.
Heading toward his age-37 season, Brown isn't a long-term option. Still, he's a respectable starter who also has missed only four regular-season games in the past four years. Brown is past his All-Pro prime, but he can upgrade an offensive line in 2022.
According to ESPN's David Newton, the Carolina Panthers are pursuing Brown. Other sensible possibilities to know are Indianapolis Colts, Los Angeles Rams and his former team, the Seattle Seahawks
Among that group, the Rams—which need to replace Andrew Whitworth—should be appealing for Brown. He could immediately join the lineup of the reigning Super Bowl champs.