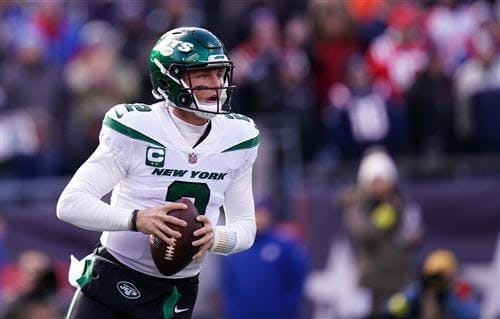 Can you believe we're already in December? It feels like the 2022 NFL season just started, and we're in the stretch playoff run. Believe it or not, we're just a little over three months away from the start of the 2023 offseason.
If this past year is an accurate indication, the 2023 offseason will involve plenty of trades. We saw legitimate stars such as Russell Wilson, Tyreek Hill, Davante Adams, Khalil Mack and Amari Cooper moved during the offseason.
We also saw standouts Bradley Chubb, T.J. Hockenson and Roquan Smith dealt at the trade deadline.
Things shouldn't be much different in 2023. As franchises look to reload rosters, manage the salary cap and jockey for draft positioning, notable pieces will be on the move.
The following 10 potential trade chips have either already been the subject of trade chatter or will be in logical trade scenarios next spring. We've ranked them based on factors such as proven production, upside, health and projected trade value.
10. WR Denzel Mims
New York Jets wide receiver Denzel Mims was the topic of trade chatter this past offseason. According to Connor Hughes of SNY, multiple teams inquired about the 2020 second-round pick, though they weren't willing to meet New York's price of a fourth-rounder.
Mims didn't play early in the season, and while he has seen the field over the past six weeks, he hasn't been a big-time contributor. In his five appearances, he has seven catches for 138 yards.
Next offseason, the Jets could be willing to take much less for Mims, who is slated to be a free agent in 2024. If so, other teams should still be interested in the Baylor product, who flashed potential during his rookie campaign.
In 2020, Mims caught 23 passes for 357 yards in nine games.
He won't command the trade attention of Hill or Adams, but he's still a second-round pick on a rookie deal who New York should easily be able to move ahead of the draft.
Projected Trade Value: 2023 fifth-round pick
9. CB Shaquill Griffin
The Jacksonville Jaguars have not gotten a stellar return on investment from cornerback Shaquill Griffin.
In March 2021, the Jags signed him to a three-year, $40 million contract in free agency. While Griffin did start 14 games last season, he started only five this year before landing on injured reserve with a back injury.
Griffin has allowed an opposing passer rating above 109.0 in coverage in both of his Jacksonville campaigns. Moving on from him in 2023 would make a ton of sense.
Jacksonville is projected to be $24 million over the salary cap. Griffin, meanwhile, is scheduled to carry a cap hit of $17.5 million with just $4 million in dead money on the deal.
Instead of releasing Griffin, the Jaguars should be able to find a taker on the trade market. He's still just 27 years old, plays a premium position and had two strong seasons with the Seattle Seahawks before he landed in upstate Florida.
Griffin was a Pro Bowler in 2019 and notched an impressive 12 passes defended and three interceptions the following season.
Projected Trade Value: 2023 fifth-round pick, 2024 sixth-round pick