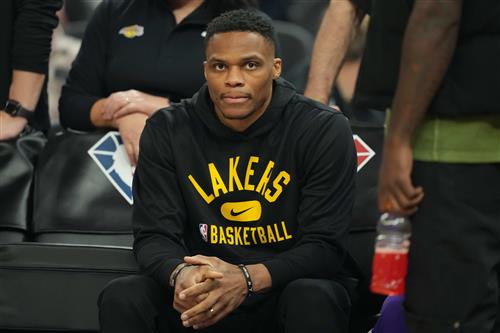 Earlier this week, The Athletic's Jovan Buha reported that the increased momentum toward the Los Angeles Lakers running it back with Russell Westbrook is not solely posturing. Here's what my fellow beat reporter wrote:
"It's not merely a bluff or tactic to try to regain leverage in trade talks. That may be an ancillary motive, sure, but per league sources, there is a sentiment among some within the franchise that the right coach and a better supporting cast could smooth over Westbrook's awkward fit with James and Davis."
Despite the fact that Westbrook punctuated his disastrous 2021-22 campaign with a bridge-burning press conference in which he pointed the finger at everybody else (including LeBron James and Anthony Davis) — preceded by Rob Pelinka omitting Westbrook from the team's future plans — the Lakers unenviable predicament has apparently caused them to reconsider the situation.
As their inert trade deadline initially signaled, the Lakers don't want to spend draft capital to get rid of Russ. Folks in the front office think Frank Vogel mishandled Russ from the jump. Two of Jeanie Buss' closest advisors, Phil Jackson and Magic Johnson, believe there are pathways for the Lakers and Westbrook to make it work. The Lakers are quizzing head coaching candidates on how to maximize Russ.
Finding success with Westbrook is also good for the brand; the Lakers want to be known as the place where stars thrive — not fail spectacularly.
Technically, the Lakers have five options with Westbrook, assuming he picks up his $47 million player option before June 30. They can trade him, buy him out, waive-and-stretch him, send him home (a.k.a. "John Wall" him), or begin the 2022-23 season with him on the squad. None of those are ideal, and it's hard to see any route that thrusts the Lakers into contention in what should be a loaded and improving Western Conference.
But that's where they're at. Let's rank those five possibilities, from "worst" to "best".
5) Bring him back
I've been emphatic in my stance: Bringing Westbrook back would spell doom. For one thing, the fans turned on him and vice versa, to the point where he openly dreaded home games. His negative vibes cast a pall over the team and permeated the locker room. His postgame demeanor and shade-throwing didn't help.
Even if there are ways to theoretically improve the basketball fit, it's hard to envision anything actually working. When they staggered minutes last season, Westbrook failed to winningly run the show. His net rating was abysmal. The team struggled regardless if one, two, or zero stars were alongside him.
The Lakers don't have the means to reconstruct an ideal roster around him rife with two-way role-players and sharpshooters. Even if their next coach staggers rotations as much as possible, Westbrook will not want to come off the bench nor sit in crunchtime.