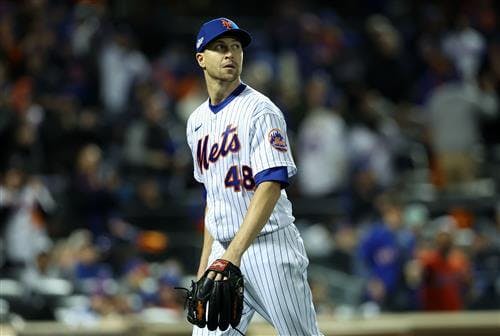 Unless he reverses course and decides not to exercise the opt-out clause in his contract with the New York Mets, Jacob deGrom is about to get capital-p Paid.
As for which team will be the one to sign the two-time Cy Young Award winner in free agency, what's say we weigh all of their chances?
We've done so in the form of a simple ranking from No. 30 all the way down to No. 1. This involved considering three factors that are sure to influence the 34-year-old ace's decision-making in free agency:
Spending Capacity: Because chances are that deGrom will be eyeing Max Scherzer's three-year, $130 million contract with the Mets as a model for his next deal.
Need: As in, just how could the team in question use a fastball-slider maestro with a 2.05 ERA over the last five seasons?
Contention Outlook: As deGrom is an aging pitcher who's had some less-than-secret health issues in the last two seasons, teams should really only go after him if they're an immediate or near-future threat to win the World Series.
As we see them, we'll count deGrom's bottom 25 fits by groups and then the top five one at a time.
30-24: Not Gonna Happen
30. Oakland Athletics
Maybe break ground on that new stadium or move to Las Vegas, and then we'll talk.
29. Pittsburgh Pirates
A mere $39 million is the team's most lavish free-agent expenditure, so "when Bob Nutting spends" is no different from "when pigs fly."
28. Cincinnati Reds
They haven't been totally unwilling to spend in the past, but the present is kind of a different story. Plus, why would any pitcher willingly sign up to pitch at Great American Ball Park?
27. Kansas City Royals
They need to get their house in order after firing Dayton Moore and Mike Matheny, and even then the franchise's first nine-figure deal doesn't figure to be forthcoming.
26. Tampa Bay Rays
Speaking strictly baseball-wise? Love this fit. Love it. But the Rays have never spent more than $30 million on a free agent, so...yeah, next.
25. Cleveland Guardians
This is another fun fit, but they only just did their first $100 million contract and deGrom isn't needed in a rotation that has Shane Bieber and Triston McKenzie up top.
24. Milwaukee Brewers
The Brewers might have around $20 million worth of salary space to fill this winter, but that's not close to enough for deGrom. Besides, they have a greater need for bats than arms.