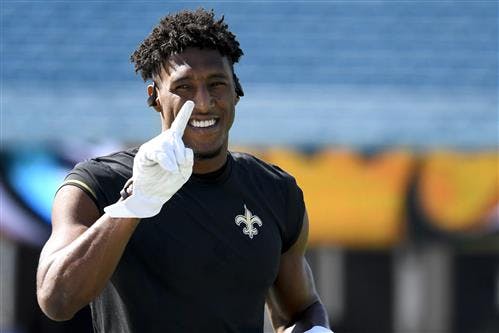 Michael Thomas is one of the Saints' best and most accomplished players. But tension has seemingly been growing between the two sides for the better part of a year. An injury-riddled 2020 saw Thomas suspended by the team, and the star wide receiver reportedly ignored calls from Saints officials for months after the season. Now, with coach Sean Payton publicly lamenting Thomas delaying an offseason surgery that'll keep him sidelined into the fall, the wideout has implied the Saints are trying to "damage" his reputation.
A year after ProFootballTalk reported the Saints may be willing to trade Thomas, there is no indication the club is actively looking to part ways with its No. 1 pass catcher. But a future split has also never seemed more possible. New Orleans is still built to contend but has survived without Thomas before. The Saints are also kicking off a new era with a new quarterback and still clawing their way out of a salary cap hole; trading Thomas would save them $1.2 million immediately, as well as a whopping $74.7M from 2022-2024.
Potential suitors would obviously be betting on Thomas staying healthy once he returns from rehab, but his contract -- a five-year, $96.3M extension signed in 2019 -- shouldn't be a hold-up, considering he's owed zero guaranteed money after 2021.
So which teams are potential destinations in the event Thomas' apparent Saints feud escalates to the point New Orleans fields offers for its disgruntled star? Here are seven of the most feasible:
7. Eagles
General manager Howie Roseman has tried to distance himself from oft-injured veterans, and Thomas feels more like a blockbuster addition for a team ready to win now, but Philly now has $16 million in cap space and counting, recently positioning itself for a sizable move. New coach Nick Sirianni is a WR coach by trade, and what better toy to add for new QB Jalen Hurts than a short-area safety valve like Thomas, who could start opposite rookie DeVonta Smith? Roseman, never one to shy away from a headline-stealing trade (and perhaps eager to make up for a missed swing for DeAndre Hopkins), could always get out of Thomas' big deal in 2022, too.
6. Jets
GM Joe Douglas is more likely to sell than buy, but he's done plenty of the former while also investing in the trenches for new QB Zach Wilson. He's also got nearly $20M at his disposal. With 2020 second-rounder Denzel Mims buried on the depth chart and reportedly available via trade, what better way to boost Wilson's chances of success than by adding a premier counterpart for new starter Corey Davis? Like the Eagles, the Jets could justify this as a potential long-term move, with the option to cut the cord early.