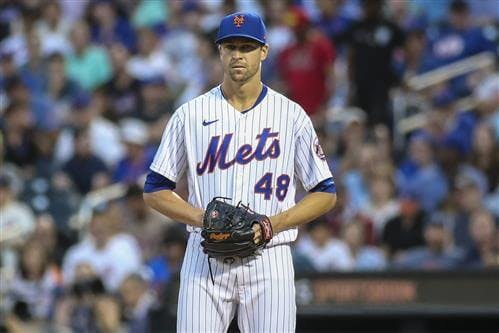 If Jacob deGrom is with the New York Mets come Opening Day of 2023, it may be because they were able to fend off other suitors for him in free agency this winter.
The two-time Cy Young Award winner still has a player option on his contract, plus a club option for 2024. Yet deGrom made it clear in March that opting out and testing the open market was "the plan." On Thursday, Jon Heyman of the New York Post reported that the right-hander is still expected to do so.
He also wrote that "some believe [deGrom] will shoot to become the first $50 million player" in Major League Baseball. That's per year, of course.
A $50 million average annual value would be no small step up from the current high-water mark of $43.3 million, set by the three-year, $130 million deal that Max Scherzer signed with the Mets last December.
So, is deGrom actually worth that much per year? And either way, which teams could conceivably make a run at him on the open market?
Albeit with a hefty dose of speculation, let's take a whack at answering these questions.
Is deGrom Really Worth $50 Million Per Year?
Short answer? Sure.
One might disagree if one is inclined to get hung up on deGrom's age- and durability-related red flags. He's already 34 years old, and elbow and shoulder injuries have limited him to just six starts since the second half of last season.
When deGrom is healthy, though, he's a pitcher unlike any other in today's game.
The last five seasons have seen deGrom pitch to a 1.94 ERA, translating to a 204 ERA+ worthy of peak Pedro Martínez. He's struck out nearly seven times as many batters (829) as he's walked (122) in this span, and his recent injuries clearly haven't robbed him of the stuff and command that have made these numbers possible.
Since his long-awaited return from the IL on Aug. 2, deGrom has been sitting at 99.4 mph with his fastball and 93.1 mph with his slider. To boot, his ability to disguise and spot those two pitches remains uncanny.
Assuming he does opt out after the conclusion of the 2022 season, nobody would be able to fault deGrom for thinking he can do better than the $63 million he otherwise would have made through 2024 under his current deal. And if anyone in baseball is a candidate to land a $50 million AAV, it's surely him.
As for which teams might be ready, willing and able to sign deGrom to that kind of contract, it goes without saying that deep pockets are a must. If a team also has luxury tax flexibility—the tax is calculated according to AAV, after all—and a supporting cast capable of attaining deGrom's unfulfilled quest for a World Series ring, even better.
With these things in mind, let's rank 10 plausible bidders for his services on the 2022-23 market.
10. San Francisco Giants
Current Record: 65-68, Third in NL West
2023 Luxury Tax Allocations: $99.2 Million
The Giants are more than $130 million south of the $233 million luxury tax threshold for 2023, and that's with left-hander Carlos Rodón and third baseman Evan Longoria in the mix. The former is likely to exercise an opt-out, according to Heyman, while the latter's $13 million option might be declined by the Giants.
But while all this hints at plenty of financial space for deGrom, the Giants' precarious contention timeline looms as a potential deal-breaker. They'd be better off making long-term maneuvers, up to and including a mega-deal with Linden, California native Aaron Judge.
9. Boston Red Sox
Current Record: 67-69, Fifth in AL East
2023 Luxury Tax Allocations: $128.9 Million
The Red Sox have a long list of pending free agents, and shortstop Xander Bogaerts is likely to join it by way of the opt-out in his contract. As Ken Rosenthal of The Athletic argued, the pressure will be on Boston to make good use of its upcoming flexibility.
Like the Giants, however, the Red Sox are also in a bit of a limbo with their contention window. That could be a turn-off for deGrom even if Boston makes a run at him, though the club's respected farm system could perhaps sway him to take a chance.