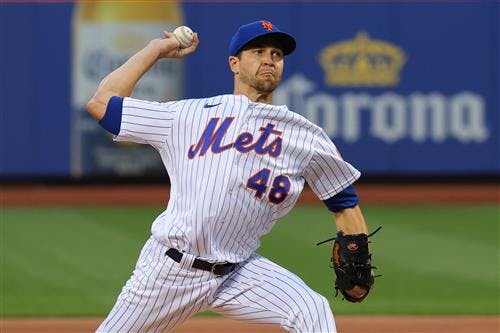 It is sort of amazing that a two-time Cy Young award winner, a pitcher with a 2.05 ERA and 876 strikeouts in his last 645 1/3 innings, is a free agent and there isn't more buzz about him. The World Series ended two weeks ago and the hot stove has been frigid with regard to Jacob deGrom, though, to be fair, that is true of most top free agents right now.
"I haven't really thought about it," deGrom said about his free agency after the New York Mets lost Game 3 of the Wild Card Series. "It's disappointing that we lost tonight. That was the goal, to move on. The plan was to be going to (Los Angeles for the NLDS), and that's not what we're doing, so I haven't really thought about it right now."
DeGrom, now 34, opted out of the final year and $32.5 million remaining on his contract with the Mets after the season. He figures to seek a contract similar to Max Scherzer's, meaning a three-year pact worth more than $40 million per season. Of course, injuries limited deGrom to only 11 starts in 2022 and 15 starts in 2021. That said, on a per-inning basis, he's as good as it gets.
Our R.J. Anderson ranked deGrom the second-best available free agent this offseason, behind only AL MVP Aaron Judge. Here's his write-up:
It reads oddly given deGrom's excellent track record, but he might be the biggest risk-reward proposition in the class. He's been one of the best pitchers in the sport since he debuted in 2014, of course, amassing two Cy Young Awards and four All-Star Games appearances along the way. There's no questioning his legacy, or his ability to throw a baseball with great efficacy when he's healthy -- therein lies the rub: how often will he be healthy heading forward? Injuries have limited deGrom to 26 starts over the last two seasons, and he's now a half-year shy of turning 35. Pitchers do not tend to stay healthier as they age. Seeing as how deGrom opted out of a one-year pact that would have paid him $32.5 million, it's likely that he's seeking a deal with an AAV closer to the $43 million Max Scherzer received last winter. Someone will undoubtedly pony up for a chance at adding a bonafide ace to their rotation, but they may end up experiencing buyer's remorse if deGrom's body continues to fail to comply.
Needless to say, every single team would benefit from adding deGrom to their rotation, though some are far more likely to pursue him than others. His salary demands will limit his market somewhat, plus deGrom figures to prioritize contenders over rebuilding teams. At 34, deGrom has accomplished everything a player could dream of accomplishing in this game except winning a World Series. Having a shot at a championship will be a priority.
With all that in mind, let's rank all 30 teams as potential landing spots for the 2018 and 2019 NL Cy Young winner.
Tier 1: Not happening
30. Oakland Athletics
29. Pittsburgh Pirates
28. Cincinnati Reds
27. Kansas City Royals
26. Arizona Diamondbacks
25. Colorado Rockies
24. Cleveland Guardians
23. Detroit Tigers
22. Miami Marlins
21. Washington Nationals
These 10 clubs are either too far away from contending and/or too far away from running the kind of payroll necessary to sign deGrom and surround him with a strong supporting cast while he's at the height of his powers. Would deGrom make these teams better? Undoubtedly, but add deGrom to the A's and they become what, a 95-loss team instead of a 102-loss team? The AL Central champion Guardians had a $68 million payroll in 2022. Are they ponying up for deGrom? Nah. These 10 clubs aren't in the best position to splurge for a top-of-the-line arm, either in the standings or financially.
Tier 2: Hard to see it
20. Tampa Bay Rays
19. Milwaukee Brewers
18. Chicago White Sox
17. Baltimore Orioles
The Rays seem to be the runner-up for a big name every offseason (last winter it was Freddie Freeman) and I'm sure it'll happen again this offseason, either with deGrom or someone else. Bottom line, there's no reason -- zero -- to believe they will spend what's necessary to sign him. Same with the Brewers, who are more likely to give those dollars to one of their aces (Corbin Burnes and Brandon Woodruff, who are both two years away from free agency) than import another ace.