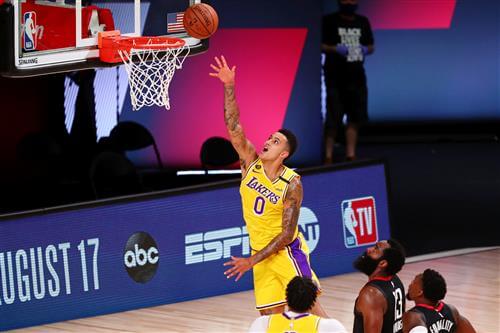 Los Angeles Lakers small forward Kyle Kuzma is going to find himself in trade rumors this offseason despite the team winning the 2020 championship at Walt Disney World over the Miami Heat in six games.
Kuzma was the only young player from the Lakers' 2018-19 roster to survive the Anthony Davis trade with the New Orleans Pelicans, as Los Angeles traded Lonzo Ball, Josh Hart and Brandon Ingram to New Orleans for Davis.
The Davis trade worked out better than expected, but Kuzma's role on offense took a big dip in 2019-20 with the addition of AD next to LeBron James. While the Utah product was the third-leading scorer for the Lakers during the regular season at 12.8 points per game, he could possibly be traded this offseason if the Lakers want to acquire a reliable third-option scorer such as Chris Paul from the Oklahoma City Thunder or Derrick Rose from the Detroit Pistons.