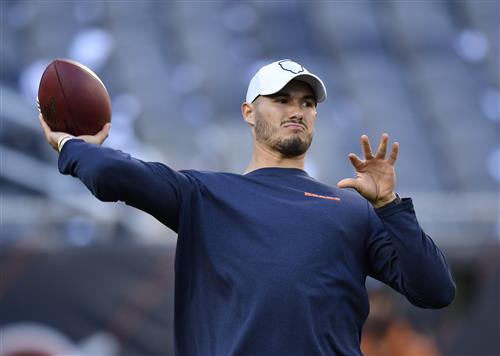 Tom Brady was the prize of a prolific quarterback class in last year's free-agency period. He landed with the Tampa Bay Buccaneers, and now his team is going to the Super Bowl.
While this year's edition of the quarterback carousel might not push a team to the NFL title game, it's going to be every bit as interesting.
Dak Prescott, Cam Newton, Jacoby Brissett, Mitchell Trubisky and Jameis Winston all have starting experience and are slated to hit free agency. Additionally, Matthew Stafford is expected to be traded, while Deshaun Watson is pushing for a move of his own.
So where will the carousel stop this offseason? That's what we're going to try to predict here.
You'll find bold forecasts for some of the top signal-callers expected to be on the move this offseason based on factors like player potential, team fit, cap space and roster construction. Draft positioning will also be considered here as a team like the Jacksonville Jaguars, who own the No. 1 pick in the draft, may not be interested in acquiring a veteran.
Quarterbacks covered are listed in alphabetical order.
Jacoby Brissett
Brady is long gone, and the Cam Newton experiment didn't exactly work out as hoped. The New England Patriots may finally be in a position to use a first-round pick on a quarterback. They own the 15th overall selection in the draft and do not appear to be remotely sold on rising third-year man Jarrett Stidham.
Therefore, it would make a ton of sense for New England to bring back Brissett, who was originally a third-round pick of the Patriots back in 2016. He was traded to the Indianapolis Colts in 2017 and went on to start 30 games for the franchise.
Brissett would provide the sort of veteran presence Newton did in 2020 while allowing New England to develop a rookie signal-caller. Of the quarterbacks with two-plus seasons of starting experience, he should also be one of the more budget-friendly options after sitting for almost all of 2020 and merely being an average starter in 2019.
Familiarity with the Patriots organization is a big selling point here, as is the potential price tag. While New England is projected to have more than $50 million in cap space, it won't be eager to overspend on a stopgap quarterback.
A return to Indianapolis would also make sense with Philip Rivers retiring, but the Colts are ready to win now and are likely to go in a different direction.
Prediction: Brissett signs with New England.
Ryan Fitzpatrick
Ryan Fitzpatrick has established himself as the ultimate NFL journeyman, capable of mentoring a young signal-caller or spot-starting for a season or more. While he has never been a long-term answer at the position, he has played extremely well in stretches.
His 34,977 career passing yards have not come by accident.
For those reasons, Fitzpatrick would be a tremendous asset for any franchise looking to groom a rookie quarterback or survive a rebuilding year in 2021. However, a return to the Miami Dolphins would also be logical as Miami doesn't quite know what it has in Tua Tagovailoa just yet.
However, the Dolphins seem to like Tagovailoa enough that they aren't considering a new quarterback in the draft—or, at least, that's the front they're presenting.
"I want to be clear: Tua is our starter," general manager Chris Grier said. "We're very happy with his development so far."
The Dolphins are projected to be more than $23 million under the cap, so they can afford to bring back Fitzpatrick, even as an insurance policy. If they're hoping to finally return to the postseason in 2021, they should.
Prediction: Fitzpatrick re-signs with Miami.
Cam Newton
While Newton didn't pan out as a high-end signal-caller with the Patriots, he did show he can still be an NFL starter. He only threw eight touchdown passes against 10 interceptions, but he also rushed for 12 scores and helped New England's talent-depleted offense amass seven wins.
A team comfortable with Newton's style of play and in possession of a strong supporting cast should be willing to give him an opportunity this offseason. For those reasons, the Washington Football Team makes a ton of sense.
Washington head coach Ron Rivera spent the bulk of Newton's pro career as his head coach with the Carolina Panthers. If anyone knows how to get the most out of the dual-threat gunslinger, it'll be him. With Washington's second-ranked defense and emerging second-year running back Antonio Gibson providing support, a season of average Newton could be enough to help deliver a second consecutive NFC East title.
The reason a run-oriented offense built around Newton didn't quite work in New England was largely the team's 15th-ranked defense. Washington would be smart to bring back Alex Smith and Taylor Heinicke for another go-round, but Newton could be the perfect fallback option if Smith decides to call it a career.
Prediction: Newton Signs with Washington.