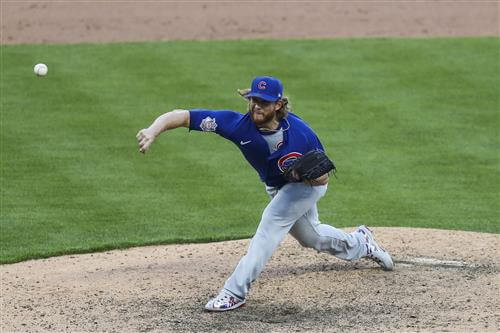 The 2021 MLB trade deadline might be over two months away, but it's never too soon to start projecting some of the names that could be on the block come July.
From stars to guys on one-year deals and a number of veteran arms, numerous players have improved their trade stock with strong performances in the first month. Sustained excellence could see some of these players head to contenders, and simultaneously bring back assets for their current teams.
Read More- 13 potential landing spots for Chicago Cub's Kris Bryant
There's a long way to go yet before clubs finalize their plans to buy and sell. Still, deadline season is one of the most exciting periods of the year.
With that in mind, let's assess some of the guys who might be up for grabs in late-July. The following names were included based especially on factors like performance, contract and team outlook.
Trevor Story, Colorado Rockies
We begin with one of the most clear-cut trade candidates in baseball.
Trevor Story is one of the best players at a premium position and will be a free agent this offseason. The Colorado Rockies are a franchise in transition and desperate for future assets. That's basically the perfect recipe for a deal to happen.
Story is off to a pretty strong start. He is slashing .294/.368/.513 with four homers, 20 RBI and four stolen bases. He currently boasts a career-high 130 OPS+ and ranks in the 85th percentile in outs above average (OAA).
It seems quite unlikely the Rockies would retain Story and risk losing him in the offseason, even if they'd gain a compensation pick in the process. Colorado already began its transition by trading Nolan Arenado this past winter. Then Jeff Bridich stepped down in April. The wheels are turning.
Expect Story to be dealt, perhaps sooner than July.
Kris Bryant, Chicago Cubs
The Chicago Cubs could face a bit of a dilemma when it comes to Kris Bryant. On the one hand, the 29-year-old has been a legitimate cornerstone when healthy.
Bryant ranked third among qualified hitters in fWAR between 2015 and 2019, trailing only Mike Trout. Injuries resulted in a poor 2020 (.644 OPS), but the 2016 National League MVP is feeling healthy this season and has a 1.030 OPS to show for it. He has also flexed his defensive versatility, playing all three outfield spots and even some first base.
That's the kind of guy you would think a big-market team like the Cubs would love to re-sign. But it's hard to project how president of baseball operations Jed Hoyer will proceed considering two of the team's other stars—Javier Baez and Anthony Rizzo—are also slated to hit the open market this winter. Plus, Bryant would more than likely net the Cubs the biggest return.
Perhaps the Cubs are still fighting for the NL Central crown at the deadline and elect to retain Bryant. But Chicago was coming off a division title when it traded Yu Darvish. Nothing should be considered off the table on the North Side.
Max Scherzer, Washington Nationals
Max Scherzer had already won a Cy Young award by the time when he signed with the Washington Nationals ahead of the 2015 campaign. Since then, he has clearly cemented his Hall of Fame legacy in D.C.
Scherzer easily paced all starting pitchers in fWAR between 2015 and 2020. He won back-to-back NL Cy Young Awards in 2016 and 2017 while also helping lead the Nats to their first World Series title in 2019. The 36-year-old has a 2.33 ERA and 0.78 WHIP in seven starts this season.
Would Washington really trade a guy who has become a franchise staple? Well, it's possible.
Firstly, the Nats have a real shortage of young talent. Bleacher Report's Joel Reuter ranked Washington's farm as the worst in baseball, which comes as little surprise particularly after the Nats shipped off two of their top prospects—Eddy Yean and Wil Crowe—in the Josh Bell trade.
Secondly, it remains to be seen whether the Nationals have the firepower to compete in the NL East. Washington lacks depth particularly in the bullpen, and the lineup was averaging under four runs per game through the first 28 contests.
Mark Feinsand of MLB.com reported a source close to Scherzer said the veteran right-hander could be "open" to a trade if such a move gave him a better chance to win. The challenge could be in the $105 million in deferred money he's owed between 2022 and 2028, per Spotrac.
Washington would likely have to pay a decent chunk of that, though the Nats might do so for the right return.