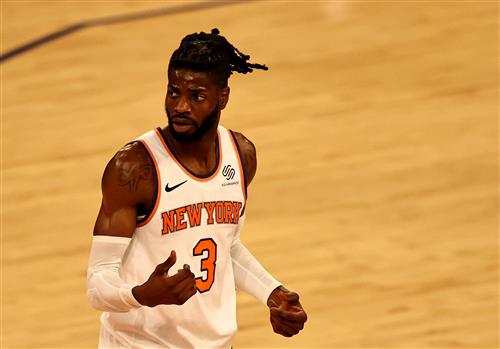 While few NBA teams will have max cap space this offseason, there's still plenty of talent to be found for the price of a mid-level exception (or less).
Perhaps no team nailed their value free-agent signings more than the New York Knicks last offseason, moves that have propelled them from one of the worst teams in the NBA to a legit playoff contender.
Other franchises should already be assembling their big boards, looking at players that can be signed using an exception instead of gobbling up a huge chunk of cap space.
The following seven players have all represented tremendous value this season, and have largely flown under the radar. They could be steals in the 2021 free-agent class as well.
Alec Burks, G/F
2020-21 Stats Per Game: 12.6 points, 4.5 rebounds, 2.2 assists, 0.7 steals, 40.8 3P%, 25.8 minutes
Current Salary: $6 million
Age: 29
The first of two current Knicks on this list, Burks has been worth every penny for New York.
Primarily operating as the team's sixth man, Burks is third on the Knicks in scoring despite starting just five games. At 6'6" and 214 pounds he can play and defend multiple positions, logging time everywhere from point guard to power forward this season.
He's become an excellent three-point shooter, knocking down a career-best 40.8 percent of his triples, including 44.7 percent of his pull-up threes. Having an offensive weapon like Burks who doesn't need an elite point guard to get him the ball and can instead generate points at will is a blessing for any team.
Burks' stats are far from empty, as well.
The Knicks are outsourcing opponents by a healthy 7.6 points per 100 possessions with Burks in the game, the best mark of his 10 seasons.
Wings with size are in high demand in today's NBA. Burks could be a key under-the-radar pickup for a contender this offseason.
Jeff Green, F
2020-21 Stats Per Game: 10.3 points, 3.7 rebounds, 1.5 assists, 0.5 steals, 41.0 3P%, 26.7 minutes
Current Salary: $2.6 million
Age: 34
Green continues to contribute to playoff teams in sizable roles, yet hasn't signed anything but a veteran's minimum contract since the 2016-17 season. If history repeats itself, Green's next team will also get a steal.
Brooklyn is now the 10th franchise the veteran forward has suited up for and the eighth where he's averaged double-digit scoring outputs. The difference between this version of Green and his first 12 seasons is a vastly improved outside shot.
While he entered the season with just a 33.4 percent career mark from three, Green is up to 41.0 percent with the Nets, including 44.1 percent on catch-and-shoot threes. That's a higher mark than players like Stephen Curry, Danny Green, Duncan Robinson and others this season.
Versatility has always been a big part of Green's game as well.
His 6'8", 235-pound frame and elite athleticism have allowed him to play anywhere from small forward to center, switching as needed defensively.
Need a starting power forward? Green can do that. How about a small-ball center to space the floor? No problem at all.
An often overlooked part of Brooklyn's success this season, Green will likely sign another modest deal with a contender before making an inevitably large impact.