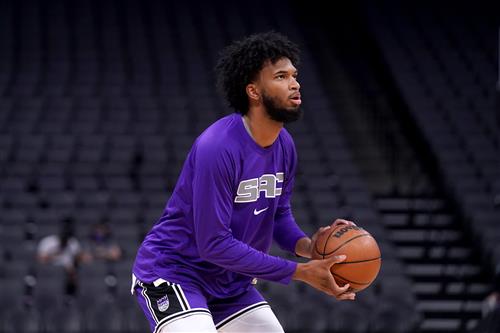 While the NBA trade market rarely closes, it typically builds up over the course of the campaign before potentially erupting in a flurry of activity at the deadline.
The extra time spawns movement for several different seasons. Players who inked free-agent pacts aren't eligible to be traded right away. Most teams want to watch a good chunk of their games before determining whether to buy or sell and how aggressively to do it.
Teams that do sell, meanwhile, can use the extra time to showcase a trade candidate and, ideally, generate enough interest to receive top dollar.
Because of contract situations, poor fits with their current rosters or desires for change, the following 10 players rank among the most likely showcase candidates for 2021-22.
Marvin Bagley III, Sacramento Kings
Marvin Bagley III, the No. 2 pick of the 2018 draft, opened this season outside of the Kings' rotation. If his father and his agent have their wish, he'll be out of Sacramento entirely sooner than later.
The Kings "aren't actively looking to trade Bagley," per ESPN's Brian Windhorst, but it sounds as if they're exploring their internal options first before considering a split. As Windhorst put it, the Kings want to "guard their depth and monitor their new smaller style of play," which sounds like a trial run for a life without Bagley before cutting the cord.
If Sacramento is exploring that route (why wouldn't it with restricted free agency awaiting him next summer?), then it will need to get Bagley back onto the floor before brokering a deal. He's usually productive when he plays (career 20.5 points and 10.6 rebounds per 36 minutes), but he hasn't played often enough recently enough to remind potential suitors of that.
The Kings need to give him enough run to send that message around the Association, then finalize a trade quickly and focus on the players they want to keep around.
Goran Dragic, Toronto Raptors
The Raptors acquired Goran Dragic as the money-matcher in the Kyle Lowry sign-and-trade. Dragic, who turned 35 in May, didn't see his trip to Toronto as permanent. The Raptors, who have at least one eye on the future, probably didn't either.
Dragic has something left to give a veteran team. He might be slowing down, but he hasn't exhausted his zip just yet. Last season, he gave the Miami Heat nightly contributions of 13.4 points and 4.4 assists. The year prior, those numbers were at 16.2 and 5.1, respectively.
His bloated $18 million salary might restrict his trade market a bit, but his contract will expire after this season, so the money shouldn't be a deal-breaker. If the Raptors give him a long enough leash to showcase his offensive skills (he logged nearly 22 minutes in the opener), then a team with postseason ambitions and a lack of scoring punch in the backcourt should come calling at some point between now and the trade deadline.
Derrick Favors, Oklahoma City Thunder
Can an interior-only, 30-year-old center actually be showcased? That's a fair question, but the Thunder will give it the old college try in hopes of getting something back for Derrick Favors before any buyout talks take place between the veteran and the rebuilding franchise.
His ceiling never stretched as high as you'd hope for a former No. 3 pick, but his floor easily climbed into the rock-solid range. He is dependable at both ends, and even if the perimeter can give him problems, he can protect the paint, finish around the basket and clean the glass.
The Thunder don't have much use for his skills, but the right win-now shopper might. Whether covering an injury, seeking out depth or hoping to upgrade an underperforming center rotation, veteran teams could target Favors at what should be a more than reasonable trade price.