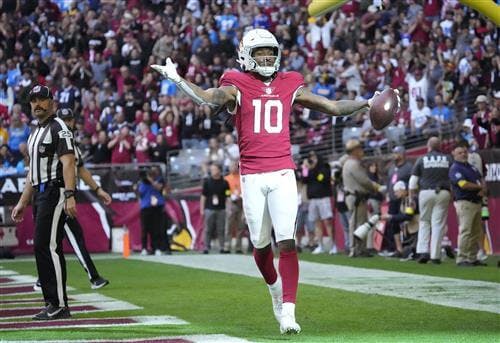 NFL teams won't rush to open the checkbook for wide receivers on the free-agent market in March. Barring extensions with their respective teams, JuJu Smith-Schuster and Jakobi Meyers will top a list of uninspiring names in this year's class. Clubs in need of a perimeter playmaker may gauge the trade market with some buzz around a few noteworthy wideouts.
Over the past few days, general managers and head coaches have answered pressing questions about offseason plans. In some instances, they allowed room for speculation with unclear or noncommittal responses to inquiries about specific players.
Based on the news and notes coming out of Indianapolis at the NFL Scouting Combine, we could see multiple teams trade a starting-caliber wideout, which would inject some life into the receiver market.
Nearly two weeks away from the official start of free agency, let's take a look at who might land on the trade block and which teams could be interested in acquiring them.
DeAndre Hopkins
After the Arizona Cardinals fired head coach Kliff Kingsbury and general manager Steve Keim stepped down for health-related reasons, theScore's Jordan Schultz reported that owner Michael Bidwill would suggest trading DeAndre Hopkins in meetings with Keim's potential successors.
On Wednesday, when asked about Hopkins' status with the team for 2023, new head coach Jonathan Gannon said, "I'm not sure."
Gannon's unclear thoughts indicate that Arizona will at least consider a trade that involves Hopkins, who has a $30.8 million cap number in the upcoming term with two years left on his contract.
With Marquise Brown on the books for one more year at $13.4 million and due for a new deal soon, the Cardinals may see Hopkins as an expendable asset. The three-time first-team All-Pro will turn 31 years old in June, and he's coming off a couple of down statistical seasons because of injuries and a six-game performance-enhancing drug suspension. Since 2021, Hopkins has caught 106 passes for 1,289 yards and 11 touchdowns in 19 games.
Arizona can possibly fetch a third-round pick in this year's draft and a Day 3 selection in 2024 in exchange for Hopkins, who's still a top-notch wideout when he's on the field. In 2022, the Cardinals wideout ranked 10th in receiving yards per game (79.7).
Monti Ossenfort, the Cardinals' new general manager, may be willing to do business with the Tennessee Titans after he spent three years (2020-22) with the organization as its director of player personnel.
The Titans have a dire need at wide receiver after they released Robert Woods, who led the team with modest totals in catches (53) and receiving yards (527) for the 2022 term. Following an underwhelming rookie campaign (33 catches for 444 yards and a touchdown in 11 contests), Treylon Burks needs more time to develop into a reliable playmaker.
With Hopkins in a lead role opposite Burks, quarterback Ryan Tannehill may be able to bounce back from an injury-ridded campaign to balance Tennessee's Derrick Henry-dependent offense.
Brandin Cooks
Houston Texans general manager Nick Caserio remained tight-lipped with the media about his top wide receiver on Tuesday.
"We'll do what's best for the team moving forward," Caserio said about a possible Brandin Cooks trade.