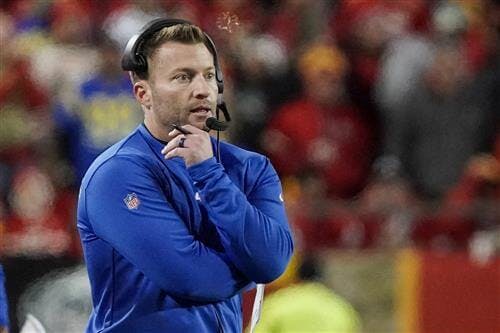 This NFL season has reached a point where there's enough football remaining for teams to change their narratives, but with two head coaches fired already, the urgency increases each week.
We've heard all season about Sean Payton's interest in returning to the sideline, complete with speculation on potential landing spots, including one that seems very misguided. There is reason to wonder whether another Super Bowl-winning head coach, Sean McVay, might again consider seeking refuge in a broadcast booth if his 3-8 Los Angeles Rams are headed for a rebuild. And after Jim Harbaugh coached Michigan to a resounding victory against Ohio State on Saturday, inching closer to a potential national championship, my mind turned to what Harbaugh termed "unfinished business" in the NFL following his pursuit of the Minnesota Vikings' job in January.
The Pick Six column leads this week with thoughts from NFL insiders on the dynamics surrounding these heavyweight coaching contenders, and which teams make for the best fits. The full menu:
• Harbaugh, McVay, Payton dynamics
• Is Zach Wilson finished with Jets?
• An imperfect 10 for Wilson, Broncos
• On your Odell Beckham Jr. fascination
• About the Titans' situational edge …
• Two-minute drill: Raiders, Jags, Browns
1. Here's what is interesting about the head coaching dynamics, from McVay to Payton to Harbaugh and beyond.
Coaches, execs and agents are looking at Houston, Arizona and Denver as the places most likely to join Carolina and Indianapolis in the market for head coaches, with some thought that the Rams could have a vacancy depending up on what McVay chooses to do, while the Chargers could consider a change if their up-and-down season were to head downward again. There will generally be a surprise or two as well.
Two of the three more interesting potential candidates aren't even working in the league.
Sean McVay: McVay is so interesting because so much has changed for him so quickly. He led the Rams to their first Los Angeles-era Super Bowl victory in February. He got married in June. He has lost key players to injury with great frequency, from quarterback Matthew Stafford to left tackle Joe Noteboom to No. 1 wideout Cooper Kupp, No. 2 wideout Allen Robinson (on Sunday) and more. His team has a 3-8 record. Stafford's wife, emotional after a concussion Stafford suffered, has reflected on the quarterback's future, at one point saying, "I just need the man I fell in love with to be the same man for my kids and the life that we are going to live."
If McVay considered taking a break from the game by stepping into the broadcast booth nine months ago, how must he feel now? He did sign a contract extension with the Rams, which would potentially limit his options down the line, except that coaches find it flattering and empowering when teams hand over draft choices to secure their services. Who doesn't love to be wanted? McVay's former boss, Jon Gruden, fetched two first-round picks, a second-rounder and $8 million for the Raiders when Tampa Bay acquired him two decades ago.