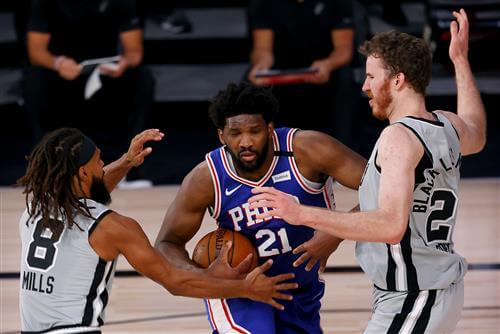 When Ben Simmons left Wednesday's matchup with the Washington Wizards with an apparent knee injury, the onus was on Joel Embiid to drive his team to a comeback. He did so. He'll have to do all that and more now, as reports emerged that Simmons elected to undergo surgery to fix the subluxation of his left patella and will leave the bubble.
It'll now be entirely up to Embiid to power the Sixers to any kind of playoff success, the first time he's been in this position in his career. After the initial news of Simmons' injury, I wrote that his absence might actually be a net positive because Philly can now surround Embiid with shooters and everyone will fall in line behind him, rather than forcing the issue to involve Simmons, as they occasionally tend to do during the playoffs. My theory shall now be put to the test in a bigger way than I initially anticipated.
Theoretically, it should work.