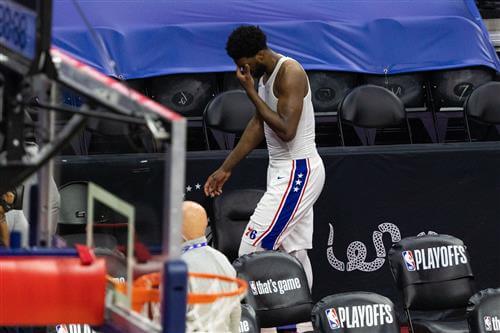 The Philadelphia 76ers had a very disappointing end to the season and need to make drastic changes. Joel Embiid is one of the best players in the league. Embiid finished second in NBA MVP honors this season and showed his toughness in the playoffs. Now he needs a better No. 2 player on the Sixers.
While Embiid played well throughout the season his costar Ben Simmons struggled heavily and was a big reason why the 76ers lost. It seems the duo won't fit well together and the 76ers need to move him to get a superstar that fits with Joel Embiid.
Before the Sixers can figure out the perfect superstar teammate to pair with Joel Embiid, they will need to figure out Simmons trade value.
What is Simmons' trade value now?
Simmons' trade value diminished in the playoffs. He was a liability on the floor, as Joel Embiid knows. Simmons was never known as a scorer but his inability to grow as a shooter has hindered his game. Simmons shot atrociously from the free throw line this postseason, a 34.2 shooting percentage. That number was the worst of any player in the playoffs in NBA history for a player with at least 70 attempts.
Although his trade value is a lot lower compared to before the playoffs he still has some value. He finished second in NBA Defensive Player of the Year voting and is a great passer. In a new situation Simmons could still be a productive player. Any trade the 76ers make for a superstar will most likely involve Simmons.