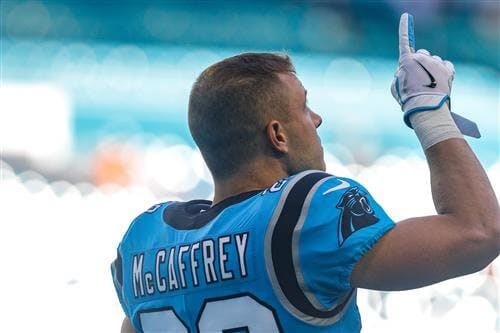 About the time Panthers running back Christian McCaffrey was headed into the training room Sunday at Miami's Hard Rock Stadium after a blowout loss to the Dolphins, Tampa Bay's Leonard Fournette was delivering the game-winning score at Indianapolis with his fourth touchdown of the day.
The two backs have been connected since the 2017 NFL Draft when Fournette went to Jacksonville with the fourth overall pick, four spots ahead of where the Panthers took McCaffrey. The Panthers were looking for a back who could take some of the wear and tear off quarterback Cam Newton, who'd been battered and beaten throughout the post-MVP and post-Super Bowl season of 2016.
The Panthers' coaches and scouts were split on whether the versatile McCaffrey or the bruising Fournette would be the better choice, with at least one assistant not sure who then-general manager Dave Gettleman would pick if both were available.
Most thought McCaffrey was a better fit for the Panthers, but there were questions about his durability.
"Obviously, he added some legitimate weight once he got into the league. But I saw a 204-pound running back at the combine with what looked like pretty narrow shoulders," former Panthers scout Khary Darlington told The Athletic in 2020. "He wasn't frail by any stretch of the imagination. But he wasn't this imposing presence that you see with other backs."
The Jaguars made Carolina's choice easier by taking Fournette. But I was reminded of those pre-draft discussions again Monday when the Panthers placed McCaffrey on injured reserve with a season-ending ankle injury.
It's McCaffrey's fifth different injury since the Panthers made him the highest-paid back in NFL history with a four-year, $64 million extension in April of 2020. Including the remaining five games he'll miss this year, McCaffrey will have been sidelined for 23 of 33 games since signing his mega-deal.