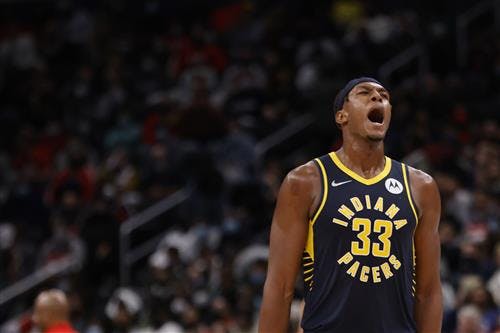 The Los Angeles Lakers have been eyeing a move for Buddy Hield and Myles Turner this offseason, and it appears the Indiana Pacers would be willing to move both players—on one condition.
If the Lakers traded two unprotected first-round picks to the Pacers, Indiana would "probably do that deal," ESPN's Zach Lowe said on The Lowe Post podcast:
"The one I've said I would lose sleep over if I were a Buss or Mr. Pelinka is trading both picks to the Pacers for Buddy Hield and Myles Turner. ... My best intel right now is if the Lakers called Indiana and said 'Both picks unprotected,' the Pacers would do that deal, would probably do that deal."
However, the Lakers have nothing in the works with the Pacers on a deal for Hield and Turner, Lowe added.
"I don't think the Lakers are there," Lowe said. "For whatever reason, they don't appear to think that the Pacers' package puts them really in the championship inner circle and they're holding onto those picks unless they find a deal that they think gets them into that inner circle."
The Lakers had been pursuing Hield and Turner for much of the offseason.