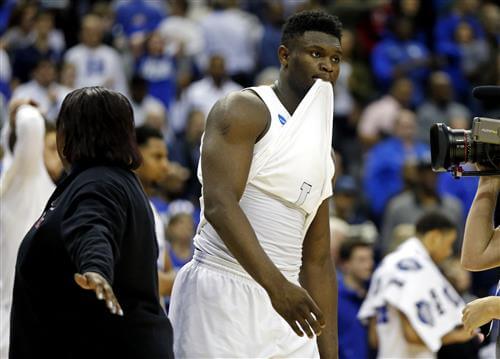 Whichever team wins the NBA draft lottery on May 14 will focus its attention on Zion Williamson. That organization can also expect phone calls from franchises across the league looking to pry away the No. 1 pick.
Regardless of how highly the lottery winner thinks of Williamson, it should listen to offers—or even make some of its own.
Trading for the No. 1 overall pick will cost an established All-Star or multiple potential All-Stars. And as appealing as Williamson may be, some teams, depending on their situations, may value proven players who can help sooner. Meanwhile, other teams looking to rebuild may be willing to trade proven All-Stars for a teenager with superstar upside.
We'll cover what it would take to wrest the top pick away from each lottery team, presented from best odds for the No. 1 pick to worst and excluding the Sacramento Kings, who would owe their selection to the non-lottery Philadelphia 76ers if it jumps to the top of the pack.
The same targets will pop up for many teams because the incoming packages only allow for so much differentiation.
New York Knicks (14 Percent Chance at No. 1 Pick)
New York Knicks Get: Anthony Davis
New Orleans Pelicans Get: Zion Williamson, Frank Ntilikina, Kevin Knox, Lance Thomas
For the Knicks, winning the lottery should mean two possible outcomes: drafting and building with Williamson or acquiring Anthony Davis.
Management shouldn't sound overly desperate on the phone with the New Orleans Pelicans, who may be more motivated to strike a deal since they weren't thrilled about the Los Angeles Lakers' offer before the February trade deadline. If anything, the Knicks should dictate terms while requiring some type of assurance Davis would re-sign in New York.
With Davis, their path to a Big Three, though still possible, would grow far trickier.
But at 26 years old, Davis is entering his prime. Potential free agents could also deem New York more desirable with him there.
While other players and teams may be needed for salary-matching purposes, the Knicks shouldn't be willing to include every young asset the team has already acquired. Frank Ntilikina is expendable. Kevin Knox's value remains up in the air; including him in offers should be dependent on the Knicks' confidence in signing Kevin Durant.
New York shouldn't be as eager to trade both Williamson and Mitchell Robinson, the 21-year-old defensive ace who'll make roughly $5 million combined over the next three seasons.
If New Orleans asks for No. 1 and fillers for Davis, the Knicks could have a tough time turning down an MVP candidate.
Cleveland Cavaliers (14 Percent)
Cleveland Cavaliers Get: Joel Embiid
Philadelphia 76ers Get: Zion Williamson, Tristan Thompson
Even a quick fix through the addition of a star wouldn't be enough to turn the Cleveland Cavaliers into a playoff contender. LeBron James' departure meant rebuilding from the ground up, which will require patience. Williamson, still 18 years old, would create the ideal foundation for a team that's only thinking long-term.
From a nothing-to-lose perspective, it would be worth calling the Philadelphia 76ers about Embiid, whose injury history and durability concerns could cause enough stress for management to at least answer the phone.
Embiid would give the Cavaliers a proven centerpiece to build around—and one who'd fit next to a stretch big like Kevin Love.
If the Boston Celtics lose their second-round series to the Milwaukee Bucks, Cleveland could try to pry away Jayson Tatum, though the Cavaliers would also need to ask for more players and draft picks.
Phoenix Suns (14 Percent)
Phoenix Suns Get: Pascal Siakam, Kyle Lowry
Toronto Raptors: Zion Williamson, Tyler Johnson, Josh Jackson
Even with two potential All-Stars in Devin Booker and Deandre Ayton, the Phoenix Suns still finished last in the West. They've recorded 24 or fewer wins in each of the previous four seasons. Their next target should be an established veteran, not another rookie to join a team that's already young.
The Toronto Raptors could lose Kawhi Leonard in free agency and see an opportunity to make a play for Williamson. Would budding star Pascal Siakam and Kyle Lowry be enough? A Lowry-Booker-Siakam-Ayton core would make sense on paper for Phoenix.
The Suns would get to add a veteran point guard and two-way forward in Siakam whose on the path toward routine All-Star appearances.
After a first-round loss, would the Oklahoma City Thunder consider moving Russell Westbrook to acquire Williamson? The Suns could send Tyler Johnson's $19 million-plus contract (assuming he opts in) and TJ Warren to match salaries. They'd have a scary backcourt of Westbrook and Booker with Ayton anchoring the middle. Meanwhile, the Thunder could retool, keeping Paul George while adding Williamson to build around over the next decade.
Otherwise, Williamson should fit well enough at power forward in Phoenix. The Suns would immediately value his energy and competitiveness, regardless of how big of a star he becomes.
Chicago Bulls (12.5 Percent)
Chicago Bulls Get: Ben Simmons
Philadelphia 76ers: Zion Williamson
The Chicago Bulls will have more to talk about than most teams if they win the lottery. They added Lauri Markkanen and Wendell Carter Jr. with the No. 7 pick in each of the last two drafts, which leaves no room in the lineup for Williamson.
Chicago would probably prefer trading one of the incumbent bigs, both of whom have already been hit with tough injuries. Otherwise, it should cost an All-Star point guard to get the No. 1 pick from the Bulls.
Ben Simmons would be an interesting player for Chicago, and it may be worth finding out if the Sixers have concerns about his fit and ceiling without a jump shot. The Bulls would value a passer of his caliber to optimize Zach LaVine, Otto Porter Jr., Markkanen and Carter.
Chicago could also look to make a deal with the team that lands the second pick. Ja Morant, the nation's assist leader and an expected top-three pick, could compel the Bulls to move down a spot if he's packaged with a strong enough asset. Would the New Orleans Pelicans trade Jrue Holiday and No. 2 for Williamson? Would Bradley Beal and No. 2 be too much for the Washington Wizards to give up?
Atlanta Hawks (10.5 Percent)
Atlanta Hawks Get: Bradley Beal, Wizards' first-round pick (projected No. 6)
Washington Wizards Get: Zion Williamson, Kevin Huerter, Kent Bazemore
Trae Young, John Collins and Williamson? Or Young, Collins and an elite NBA wing scorer?
The Atlanta Hawks could check on the availability of the league's top 2s and 3s—a player type that could fill a hole.
The Washington Wizards jump out as a team with which Atlanta should talk. They have to at least explore trading Beal after John Wall's severe Achilles injury and the Otto Porter Jr. swap with the Chicago Bulls. Keeping him means wasting his prime years during losing seasons.
The Hawks have the salary fillers (Kent Bazemore and Mason Plumlee) to get a deal done. Beal and the Wizards' first-round pick (projected at No. 6) for Williamson plus other minor pieces is intriguing.
Atlanta would then have its point guard of the future in Young, a developing inside-out big in Collins and an All-Star wing scorer in Beal.
Washington Wizards (9 Percent)
Washington Wizards Get: Jayson Tatum, Marcus Smart, Robert Williams
Boston Celtics Get: Zion Williamson, Ian Mahinmi
With John Wall out for most—if not all—of next season while earning over $37 million every year until 2023 (2022-23 player option for almost $47M), having Williamson on a rookie contract sounds ideal.
It's tough to imagine Washington entertaining any offers for the No. 1 pick unless they involve a young All-Star or a package of potential stars from a team like the Boston Celtics.
Washington could look to pair Beal with Tatum and Smart while developing 2018 first-rounder Williams into the future starting center.
Otherwise, the Wizards will have to endure the devastating effects of Wall's injury with patience. If Washington wins the lottery, the bigger question will focus on Beal and whether the team wants to compete with him and Williamson or start from scratch and flip the shooting guard for young players and picks.
Instead of shopping No. 1 overall, Washington may be wiser to contact Boston or the Los Angeles Lakers about their interest in Beal.