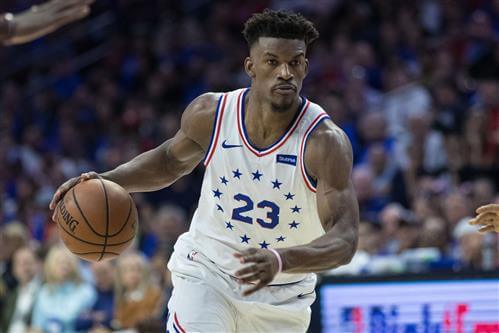 Never mind the fact that they're tied for the two worst winning percentages in the NBA over the last six seasons. The Los Angeles Lakers and New York Knicks popping up in free-agency rumors feels like an annual offseason tradition.
But what if basketball fit, team culture and long-term potential carried as much weight as market size and organizational lore do in summer narratives? Sure, the big-name teams would still attract plenty of attention as the right fits for certain players, but others around the league would certainly get their own shine.
The goal here involves finding teams that may be off the media's beaten path and offer better basketball fits for this summer's top 10 free agents. Our pool of players and rankings for this exercise are determined by Bleacher Report's Grant Hughes.
10. Khris Middleton: Atlanta Hawks
Right now, the betting odds are heavily in favor of Khris Middleton returning to the Milwaukee Bucks in 2019-20, per Yahoo's Keith Smith.
It would be a tough situation to leave. Teammate Giannis Antetokounmpo is an MVP candidate, the Bucks were two wins away from the NBA Finals and 27-year-old Middleton is the older of the two. If they stay together, they'll have a decent chance to get another crack at a title.
The only possible issue is that Milwaukee is clearly Giannis' team. Middleton hasn't given any indication that's a problem for him. But if he does want to be a No. 1 option somewhere, he may test free agency.
The Atlanta Hawks could be a seamless fit.
Youngsters Trae Young and John Collins have the playmaker and big roles locked down. A malleable combo forward such as Middleton could have them in contention for a playoff spot as early as next season.
Now, there may be some question as to whether Middleton would be a No. 1 option there, as well. Young and Collins both averaged more points in 2018-19. Young averaged the most shots of the three.
But maybe this could be some kind of 1A/1B/1C situation like the Dallas Mavericks featured in the early 2000s with Dirk Nowitzki, Michael Finley and Steve Nash.
9. Tobias Harris: Utah Jazz
"Journeyman" can sometimes have a negative connotation when applied to NBA players. For Tobias Harris, who's been traded five times and played for five teams in eight seasons, it shouldn't.
Player efficiency rating's flaws have been well-documented, but it's interesting as a measure of Harris' consistency. After he posted a career-low 14.2 PER as a rookie, he's been between 16 and 17.2 in each of his seven other campaigns.
If only his address was as steady as his play.
Other than the rare no-trade clause, a player can do very little to guarantee he won't be traded. But as Harris approaches Year 9, he could be in the market for some stability.
The Utah Jazz may be the team that can offer it.
Generally speaking, the Jazz have approached player movement more conservatively than the rest of the league. New general manager Justin Zanik may gamble a bit more than his predecessors, Dennis Lindsey and Kevin O'Connor, but both still hold positions with the team. And when those executives signed players to long-term commitments, they were usually honored.
The ironic part is that the Jazz would probably have to waive the final year of Derrick Favors' contract (non-guaranteed for $16.9 million) to have the cap space to sign Harris.
Favors has been with Utah since he was traded there during his rookie season in 2010-11. He's only a year older and was significantly better than Harris in 2018-19, according to both box plus/minus and win shares per 48 minutes.
But per Keith Pompey of the Philadelphia Inquirer, the Jazz intend to pursue Harris.
8. Nikola Vucevic: Los Angeles Lakers
The market for bigs may be the most interesting one to watch this summer. Have teams learned from the sins of 2016, when front offices splurged on the likes of Timofey Mozgov and Bismack Biyombo? Are switchability and perimeter skill more valuable than traditional size?
The deals signed by Nikola Vucevic, DeMarcus Cousins and the other free-agent centers will go a long way toward answering those questions.
Vucevic is a player whose skill may transcend those concerns, though.
This season, a 28-year-old Vucevic averaged 24.3 points, 14.0 rebounds, 4.5 assists, 1.3 blocks and 1.2 steals per 75 possessions. Kevin Garnett's 2003-04 campaign is the only season on record to match all five of those numbers. And, of course, KG won MVP that year for the Minnesota Timberwolves.
MVP-level play from Vuc in his contract year could ensure a return to the Orlando Magic. But what if he followed the path Shaquille O'Neal once took to the Los Angeles Lakers?
L.A. has a proud tradition of big men that includes Kareem Abdul-Jabbar, Shaq and Pau Gasol. LeBron James has a history of success with skilled bigs like Chris Bosh and Kevin Love who can stretch the floor. The fit would make plenty of sense for a team that started JaVale McGee at center for 62 games.
But any reciprocal interest from the Lakers would likely depend on them striking out elsewhere. On top of their involvement in the Anthony Davis sweepstakes, LeBron has reportedly recruited wings Jimmy Butler and Kawhi Leonard.
If all those flashier names land elsewhere, L.A. could do a lot worse than a LeBron/Vucevic pick-and-roll duo.
7. Al Horford: Sacramento Kings
In order for Al Horford to enter free agency, he has to opt out of the $30.1 million he's owed by the Boston Celtics for 2019-20. That's obviously a lot of money to turn down, but a world exists in which you can imagine Horford going down that route.
He's set to enter his age-33 season, and a deal in the neighborhood of $60 million over four years might be enticing if he feels he's more likely to get that security this summer than next.
His current squad might be the team to make such a deal.
"That will be discussed," Boston general manager Danny Ainge said when asked about the possibility of Horford opting out and extending with the Celtics, per NBC Sports Boston's Chris Forsberg. "That's one of the priorities on our list, as well."
That priority could head down the list if rumors about Clint Capela are true.
"The Celtics from what I have heard engaged pretty seriously on Clint [Capela]," Basketball Insiders' Steve Kyler tweeted. "... Everything is very fluid at this stage in the draft/trade process. It's finding out what you can do."
If Boston is already looking at other centers, perhaps Horford could land elsewhere for 2019-20. In that case, the young core of the Sacramento Kings would make for a fun pairing.
The "let's sign some vets to impart wisdom on the young guys" move didn't work for the Kings when they added George Hill and Zach Randolphin 2017. But it's not a strategy without some value. Sacramento just went to it too soon.
This team is more ready now. De'Aaron Fox, Buddy Hield and Bogdan Bogdanovic helped lead the Kings to a ninth-place finish in the Western Conference. Marvin Bagley III showed plenty of potential along the way. Now, Horford could fill a role one of his former teammates did for the Denver Nuggets.
Paul Millsap's maturity, leadership and versatility have been a crucial part of the young Nuggets' rise over the last two seasons. Could Horford provide the same for the Kings?
6. Jimmy Butler: Brooklyn Nets
Jimmy Butler will have plenty of suitors on July 1, including the Philadelphia 76ers squad he's already on.
According to Cleaning the Glass, Philly's net rating was 6.3 points per 100 possessions better (85th percentile) when Butler was on the floor during the regular season. In the playoffs, he led the team in BPM and averaged 19.4 points, 6.1 rebounds and 5.2 assists.
And after seeing how deep into the playoffs the Toronto Raptors advanced, the Kawhi Leonard buzzer-beater that ended the 76ers' season in Game 7 of the Eastern Conference semifinals has to haunt them.
Butler's clearest path to contention might be remaining alongside Joel Embiid and Ben Simmons as they continue to develop. However, he may have a chance to skip the process if rumors about Kyrie Irving and the Brooklyn Nets are true.