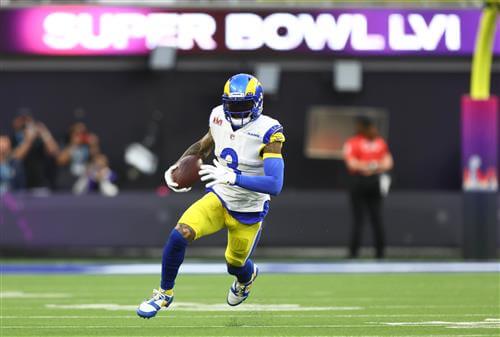 As spring turns into summer and NFL training camps draw nearer, free agency has wound down. Most of the players who will make a sizable impact this season already know where they will play in 2022.
However, there are a few big names who are still on the open market. Some are holding out (at least in a fashion) in the hopes for a bigger and better deal than what they have been offered to date. Others have a cloudy future due to an injury.
Odell Beckham Jr. falls into that latter camp. After tearing his ACL in Super Bowl LVI, the 29-year-old's availability for the 2022 campaign remains a question mark. But while Beckham hasn't recently been able to post the gaudy numbers that he did over his first few years in New York, we saw some flashes in L.A. of that player who took the NFL by storm back in 2014 and 2015.
And if that type of player is able to get back on the field for the stretch run, then with the right fit Beckham could be the ultimate wild card, the sort of difference-maker who can mean the difference between a cup of coffee in the postseason and a run all the way to Glendale, Arizona, and Super Bowl LVII.
At first glance, Beckham's 2021 doesn't look especially impressive. Over 14 games split between the Rams and Cleveland Browns, Beckham caught just 44 passes for 537 yards and five touchdowns. His 12.2 yards per reception was the second-lowest mark of his career. His average of 38.4 receiving yards per game was his lowest by a sizable margin.
But dig a little deeper, and the picture brightens considerably. All five of Beckham's regular-season scores came after he joined the Rams. So did his best single-week stat line of the entire season—a five catch, 81-yard effort (with a touchdown) in a Week 12 loss to the Green Bay Packers.
Once the playoffs got underway, Beckham truly emerged.
The three-time Pro Bowler caught all four of his targets for 54 yards and a score in the wild-card matchup against the Arizona Cardinals. He followed that up with six catches for 69 yards on the road against the Tampa Bay Buccaneers. Then he exploded to the tune of nine catches for 113 yards in the NFC Championship Game against the San Francisco 49ers. And then he reeled in two passes for 52 yards and a touchdown before his knee gave way in the Super Bowl victory over the Cincinnati Bengals.
All told, Beckham had 21 catches for 288 yards and two touchdowns in four postseason games. Extrapolated over an entire regular season, that would equate to a beefy 89/1,224/9 stat line. Those numbers would be Beckham's best since 2016.