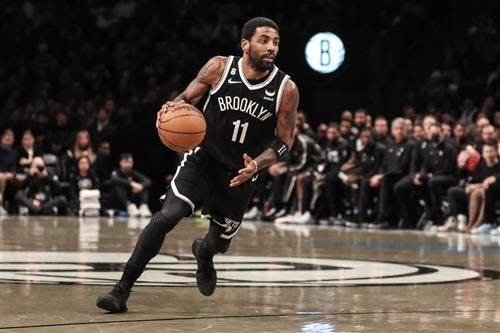 Kyrie Irving demanded a trade from the Brooklyn Nets on Friday.
Oh, you've heard?
Alas, demanding a trade and actually getting traded are very different things. No team is obligated to acquire Irving, and the Nets themselves are under no obligation to trade him. They might be more motivated to do so, rather than keep around a player who doesn't want to be there, but as we saw with Kevin Durant this summer, it isn't an inevitable endgame.
This is particularly true in the case of Irving. The league already told us this past summer that the market for Irving's services is not exactly vibrant, especially compared to what you'd normally expect for an All-Star starter. His efforts to generate a sign-and-trade to another team fizzled out so badly this summer that he ended up opting into the final year of his deal, and that was before he earned an eight-game suspension in November after posting a link to a documentary promoting anti-Semitic views on social media and repeatedly refusing to apologize for doing so.
Additionally, the current standoff with the Nets apparently arose because he couldn't get a contract extension from them. I'm not sure any other teams are champing at the bit to extend Irving either (he's eligible for a two-year, $78 million extension right away, or could sign for as long as four years this summer, although that premise seems far-fetched at the moment).
However, there is a certain type of team — older, capped out, in need of guard help, and generally a little desperate — that cannot be ruled out as a potential Irving pursuer. I count seven of them, plus two other teams that are just interesting enough in the context of an Irving deal to not write them off.
I will emphasize, again, that I think there remains a decent chance that the Nets do nothing and call Irving's bluff. Nonetheless, let's humor ourselves by going through this exercise and figuring out what bidders are even possible or reasonable.
First, there are four types of teams we can probably rule out, encompassing 20 of the Nets' 29 potential trade partners:
All set at point guard (11) — Golden State, Memphis, Portland, Oklahoma City, Indiana, Sacramento, Denver, Charlotte, Cleveland, New York, Philadelphia.
Maybe if he were five years younger (5) — Orlando, Houston, San Antonio, Utah, Detroit.
Financially unrealistic (3) — Milwaukee, Minnesota, Washington.
Maaaaan, HELL no (1) – Boston.
That leaves nine as at least somewhat possible for an Irving trade, especially if his antics this season have driven the price down. We'll get to each of them and why in a minute.
Before we delve further, however, a few guidelines on what a reasonable trade might look like:
The Nets need players out of this, not picks. That's true for two reasons: First, Brooklyn has zero incentive to tank/rebuild because it owes its next five drafts to Houston from the James Harden trade. Second, the Nets have a strong incentive to get an equivalent player back so that Kevin Durant does not reiterate his own trade demand, either now or this summer.
In a related story, three-way trades might be more reasonable than two-way deals: Trading Irving for draft capital, and then the draft capital for Irving's replacement. While it has no picks of its own to trade until 2028, Brooklyn also has a future first from Philadelphia (2027, top-9 protected) that can be used to sweeten the pot.
With Irving headed into free agency, signability matters. Some teams could theoretically trade for him, but would be unlikely to pursue it seriously if they think it is unlikely he would re-sign.
With those caveats in mind, here's how I would handicap the field of Irving pursuers:
9. New Orleans Pelicans
Let's get crazy! New Orleans has the desperation of its recent losing skid, amid poor guard play and generally feckless offense, plus the Pelicans have expiring contracts and draft picks to put a deal together. Re-signing Irving is a clear risk, but perhaps manageable if they're willing to pay him. And surely he provides exactly what this offense lacks in terms of backcourt playmaking and shooting.
Putting together salaries is a bit problematic, especially without Brandon Ingram in the deal. Sending Devonte' Graham, Jonas Valanciunas, Jaxson Hayes and Garrett Temple puts just enough salary into the deal to match Irving, take back Markieff Morris and Yuta Watanabe, and stay under the luxury tax line. The Pelicans could throw in the better of their own pick or the Lakers' pick in 2023, top-4 protected.
The Pelicans would become a luxury tax team the next two seasons, with four players making over $30 million; alternatively, they'd be out a starting center and a first if Irving left after the season, with the Bird Rights trap blocking their ability to get a quality replacement.
From the Nets' perspective, this package may not even be all that enticing. Can they shop for an elite point guard from another team with the pick and Valanciunas?
Overall, there are too many pitfalls here to take a deal too seriously, but it's still a fun one to ponder.