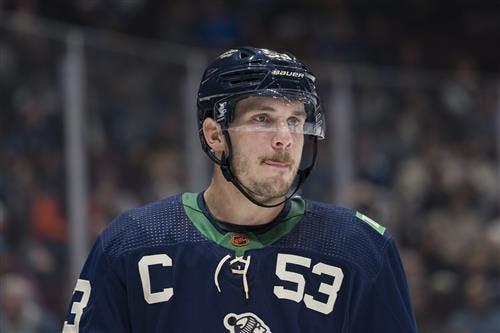 It's the season to be jolly as the NHL's 2022-23 schedule enters December. For general managers exploring the trade market, there are limited shopping days until the holiday roster freeze goes into effect at 11:59 PM ET on Dec. 19 until 12:01 AM ET on Dec. 28.
Only three trades occurred in November. On Nov. 23, the New York Rangers shipped winger Ryan Reaves to the Minnesota Wild in exchange for a fifth-round pick in the 2025 NHL draft. Later that day, the Toronto Maple Leafs acquired defenseman Connor Timmins from the Arizona Coyotes for forward Curtis Douglas. And on Nov. 30, the Carolina Hurricanes acquired Vegas Golden Knights defenseman Zack Hayes for future considerations.
Several notable players who were part of our November Trade Block Big Board, such as Vancouver Canucks center Bo Horvat and Chicago Blackhawks winger Patrick Kane, are part of our December listing of noteworthy trade candidates. Others, such as San Jose Sharks defenseman Erik Karlsson, are making their debut.
The following is our listing of 10 NHL trade candidates for December 2022 based on media-generated trade rumors throughout November. They are ranked based on talent, market value and possibility of getting traded during this season.
10. Kasperi Kapanen, Pittsburgh Penguins
Since joining the Pittsburgh Penguins in a trade from the Toronto Maple Leafs in August 2020, Kasperi Kapanen has struggled to regain the promising 20-goal, 44-point form he displayed in 2018-19 with the Leafs. Penguins general manager Ron Hextall gambled on Kapanen last summer by signing him to a two-year contract worth an average annual value of $3.2 million.
So far, however, Kapanen's performance has been disappointing. The 26-year-old winger has just one goal and five points in 14 games and was a healthy scratch for nine games through November.
On Nov. 28 Pittsburgh Hockey Now's Dan Kingerski suggested the Penguins attempt to swap Kapanen for a struggling forward on another club in the hope a change of scenery might be worthwhile for both players. Edmonton Oilers winger Jesse Puljujärvi, Calgary Flames forward Milan Lucic or San Jose Sharks winger Kevin Labanc were his proposed options.
It remains to be seen what the Penguins will do with Kapanen. His ongoing struggles, however, suggest he could become a trade candidate before the March 3 deadline.
9. Timo Meier, San Jose Sharks
On Oct. 27, TSN's Pierre LeBrun reported hearing from other clubs that San Jose Sharks general manager Mike Grier was willing to entertain trade offers on nearly every player on his roster. That raised questions about Timo Meier's future.
Meier, 26, is slated to become a restricted free agent with arbitration rights next summer. His salary-cap hit is $6 million, but he's earning $10 million in actual salary this season. That's what it will cost the Sharks just to qualify his rights for 2023-24 unless he and Grier can agree to a contract extension with a lower average value.
On Nov. 4, The Athletic's Eric Duhatschek wondered if the Sharks would move Meier before the March 3 trade deadline. He felt that the winger could become a playoff rental as few clubs could afford that hefty qualifying offer. Duhatschek's colleague Kevin Kurz suggested Meier would be a good fit with the New York Islanders provided he signs with them.
San Jose Hockey Now's Sheng Peng reported on Nov. 25 that Meier indicated there's nothing new going on with his contract negotiations. Earlier in the season, his agent said he didn't expect to receive any offers until the end of 2022-23. Unless that situation changes, Meier will likely pop up more frequently in media trade chatter.