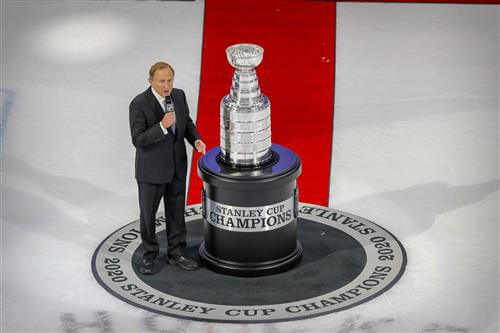 The NHL is exploring short-term hubs, temporary realignment and a reduced schedule as options for the 2020-21 season amid the coronavirus pandemic, Commissioner Gary Bettman said Tuesday.
Commissioner Bettman said he would never ask players to return to a bubble for an entire season after the NHL finished the 2019-20 season and staged the 2020 Stanley Cup Playoffs in bubbles in Edmonton and Toronto from July 25-Sept. 28, requiring isolation, daily testing and strict protocols.
But he said the League is exploring teams playing in their own arenas (with or without fans depending on the local situation), in hubs or in a hybrid system.
Any plan would be a collaborative effort between the NHL and the NHL Players' Association, as was the 2020 Return to Play Plan. Though both sides are in constant and regular communication, there haven't been any regular meetings.
If teams play in hubs, they will rotate in and out.
"You'll play for 10 to 12 days," Commissioner Bettman said in a virtual panel discussion during the 2020 Paley International Council Summit. "You'll play a bunch of games without traveling. You'll go back, go home for a week, be with your family. We'll have our testing protocols and all the other things you need.
"It's not going to be quite as effective as a bubble, but we think we can, if we go this route, minimize the risks to the extent practical and sensible. And so that's one of the things that we're talking about."
Commissioner Bettman has said in the past the NHL is targeting a Jan. 1 start and how the season starts is not necessarily how it will finish, depending on how the situation evolves.
The NHL and NHLPA will have to consider many factors, including the closure to nonessential travel of the United States-Canada border.