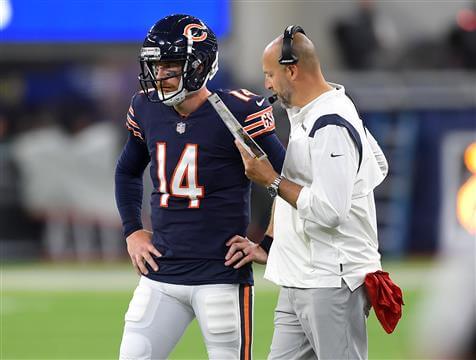 The first Sunday of the 2021 NFL season is in the books which means it's now Monday morning which means it's time for us to have some very strong reactions to some disappointing things that we saw from Sunday.
That's just what we do as football fans – we love to look back and say "WHAT WE'RE THEY THINKING?"
We're only one week into a 17-game season so there's lots and lots and lots of football to be played but there were some disappointing performances and decisions made on Sunday so let's get into all of that.
Where should we start? How about with the Sunday night game in Los Angeles.
What are Matt Nagy and the Bears doing with Justin Fields?
Fields, the No. 11 pick in last April's NFL Draft, made his NFL debut last night in the Bears' loss to the Rams on Sunday Night Football. Well, he kind of made his debut.
He completed both of the passes he threw (for a total of 10 yards) and ran for his first touchdown but for some reason Bears head coach Matt Nagy didn't use him enough or do enough things with him (how many shuffle passes can we see?), as he leaned mostly on Andy Dalton who threw for 206 yards and two interceptions, including a very ugly one in the end zone.
Nagy needs to go all in on Fields ASAP. They drafted this guy to be the franchise QB and now it's time to let him go out there and do the darned thing.
Bears fans are not going to let this slow dance go on very longer. Make the move, Nagy.
The Dalton era needs to be done.
Name Fields the starter and do it NOW!