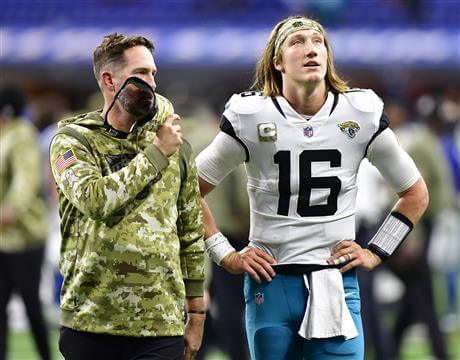 Eleven weeks into the NFL season, the teams set for rebuilding in the 2022 offseason have crystalized.
Some of them are expected. Rebuilds, though teams would prefer otherwise, are a multiyear process. One of the best recent examples is a Cincinnati Bengals team that spent the last two years overhauling the roster before contending for the playoffs this season.
Other rebuilders are unexpected, but they share common traits. They have major needs across the roster, cap space and premium draft assets to use, potential changes in the coaching staff and, most importantly, a need to reset at quarterback—with one notable exception.
These teams are mired in the league's most extensive rebuilds with the most work to do. The quality of that work will dictate how long the rebuilding lasts.
Jacksonville Jaguars
The Jacksonville Jaguars are the exception to the quarterback rule after using last year's first pick on Trevor Lawrence.
Everything else is a work in progress.
The Jaguars are 2-7 with a minus-83 point differential, the fifth-worst mark in the league. Lawrence has thrown eight touchdowns and nine interceptions over nine games behind Pro Football Focus' 21st-ranked offensive line, and his middling cast of weapons has dropped 14 passes.
Defensively, the Jaguars allow 25.8 points per game (27th in the NFL) and have just 16 sacks (28th). Not only is there a talent deficiency, but the Jaguars also spurred this issue by trading 2020 top-10 cornerback CJ Henderson to fuel the rebuild.
There's also the matter of Urban Meyer, whose first attempt at being a pro coach has turned up disastrous results to date, including an off-field distraction.
The Jaguars project to have $57 million in free cap and a top-five pick, so they have the potential for a quick turnaround. But few teams have more to do and more at stake with Lawrence's development on the line.
Washington Football Team
The Washington Football Team looked poised to fight for a playoff spot after making the postseason last year and tallying at least seven wins in five of its last six seasons.
Instead, the rebuild under head coach Ron Rivera seems to be going in the other direction at 3-6. Before an unexpected upset of Tampa Bay in Week 10, Washington's only wins had come against sub-.500 teams, and its minus-61 point differential is the worst in the NFC East.
Taylor Heinicke has started eight games with Ryan Fitzpatrick out with a hip injury and has mustered 12 touchdowns and nine picks. No running back behind him has averaged better than four yards per carry.