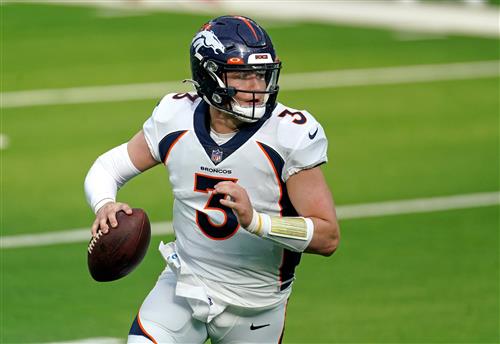 Not every team should try to find its long-term quarterback answer in the 2021 NFL draft.
Sometimes, the cost just isn't worth it for teams that don't sit in the top five of an upcoming draft that projects to have four or five first-round signal-callers. Last year, once the three top prospects were off the board, teams in need knew to call it quits. In 2019, Washington at 15th overall didn't, and Dwayne Haskins Jr. is already off the roster.
There isn't a hard cutoff every year, but the cost of moving up to guarantee one of the top four passers in this draft is just too much. And that baseline price has already been set after San Francisco sent a trio of first-round picks to Miami to move from 12th to third.
The following teams are either out of range, have a worthwhile stopgap solution or a combination of both and should sit out the quarterback crunch for at least this year.
Atlanta Falcons
The Atlanta Falcons might be the most controversial team here because they sit fourth overall. If the franchise turns things around even a little, it won't sit in this position to draft a premium quarterback in the immediate future.
But settling for the leftovers, meaning the fourth quarterback prospect, isn't ideal unless the Falcons are in love with him. Jacksonville is obviously taking Trevor Lawrence, the New York Jets traded Sam Darnold in order to draft another (likely Zach Wilson), and the 49ers didn't trade all that capital to move up and take a non-quarterback.
Money is a problem, too. There's no wiggling out of Matt Ryan's deal, which has a $26.9 million cap hit this year with a $70.9 million dead-cap charge.
There's an out built into Ryan's contract after 2021, but Ryan himself is part of the issue, too—going into his age-36 season, this doesn't have to be the end. The veteran was solid again last year, completing 65 percent of his passes on 626 attempts while throwing 26 touchdowns and 11 interceptions. Now, he's getting a new head coach in offensive architect Arthur Smith who could only make things better.
Given the contract structures and career arcs of top names like Ryan and Julio Jones, a full-blown rebuild around a rookie passer doesn't need to happen in Atlanta just yet.
Detroit Lions
The Detroit Lions sit seventh overall after forcefully ending the Matthew Stafford era, inheriting Jared Goff in a trade with the Los Angeles Rams that also netted them two first-round picks.
Goff isn't the most appealing of starters in the NFL if a mind like Sean McVay was willing to throw in the towel and do a deal he thought was an upgrade, sacrificing a ton of assets in the process.