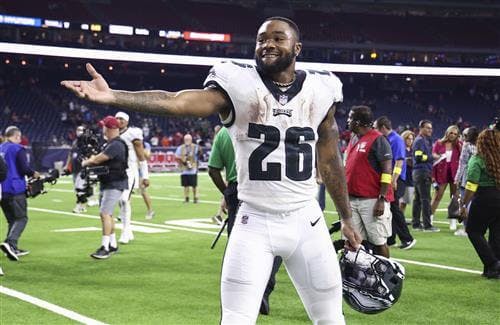 The 2022 NFL trade deadline came and went on Tuesday, and as expected, some teams dealt key players in order to improve their future draft and cap capital.
The Denver Broncos, for example, got a 2023 first-round pick, a 2024 fourth-round pick and running back Chase Edmonds from the Miami Dolphins for pass-rusher Bradley Chubb and a 2025 fifth-rounder.
The Chicago Bears traded off pass-rusher Robert Quinn and linebacker Roquan Smith to the Philadelphia Eagles and Baltimore Ravens, respectively. Chicago got back a 2023 fourth-round selection for Quinn and received 2023 second- and fifth-round picks in the Smith trade, along with linebacker A.J. Klein.
Chicago also heads into 2023 with a league-high $114.5 million in projected cap space. While loading up on draft picks and cap room doesn't guarantee a fast or successful rebuild—the 2-6 Jacksonville Jaguars have had four first-round picks and two No. 1 overall selections over the past two years—the Bears should be major players in the draft and in free agency next spring.
Which other teams are poised to control the free-agent and draft markets at this year's midpoint? That's what we're here to examine. First, though, let's take a quick look at next offseasons potential top targets.
Teams are listed in alphabetical order.
Free Agency and Draft Primer
Next offseason could be a great one for teams loaded with cap space. Our early free-agent big board is littered with high-end talents like quarterback Tom Brady, offensive tackle Orlando Brown Jr., safety C.J. Gardner-Johnson, cornerback James Bradberry and running back Saquon Barkley.
Ravens quarterback Lamar Jackson is also slated to become a free agent, though it will be a major shock if Baltimore actually lets him reach the market. Smith will be a free agent as well, though the Ravens presumably have plans to extend him after acquiring him from Chicago.
The Dolphins have signed Chubb to a five-year, $110 million extension just days after acquiring him from Denver.
Hypothetically, a team like Chicago could completely reload its roster by adding the likes of Brown, Bradberry, Barkley, defensive tackle Javon Hargrave and wideout JuJu Smith-Schuster well before the draft.
And the 2023 draft is an enticing one, too. Quarterback-needy teams will be eyeing prospects like Ohio State's C.J. Stroud, Alabama's Bryce Young and Kentucky's Will Levis—and those might not even be the top overall prospects.
The Bleacher Report Scouting Department recently published its early Top 100 list, which is headlined by Alabama edge-rusher Will Anderson Jr., Georgia defensive lineman Jalen Carter, Clemson edge-rusher Myles Murphy and Texas running back Bijan Robinson.
It's shaping up to be another stellar draft class, and teams with multiple high picks could come out of it as big winners.
Atlanta Falcons
The Atlanta Falcons have been surprisingly competitive this year, considering they have a placeholder quarterback in Marcus Mariota and won just seven games in 2021. The Falcons sit at 4-4 and in first place in the NFC South.
What's interesting is that Atlanta has the cap capital to get substantially better in 2023. The Falcons rank second behind Chicago with $68.7 million in projected cap space.
The Falcons also have a little extra draft capital after dealing suspended receiver Calvin Ridley to the Jacksonville Jaguars. The NFL gave Ridley an indefinite suspension for betting on games last year, but Atlanta was still able to pry some conditional picks from the Jaguars.
The Jaguars traded a 2023 fifth-round pick and a conditional 2024 fourth-round pick that, according to ESPN's Adam Schefter, could become as high as a 2024 second-rounder if certain conditions are met.
While the extra fifth-rounder is nice, the Falcons are poised to be players because of their cap space. Atlanta is good enough to compete now, and if it could bolster its 31st-ranked defense with free agents like Gardner-Johnson, Bradberry and pass-rusher Yannick Ngakoue, it could be a force in the NFC.