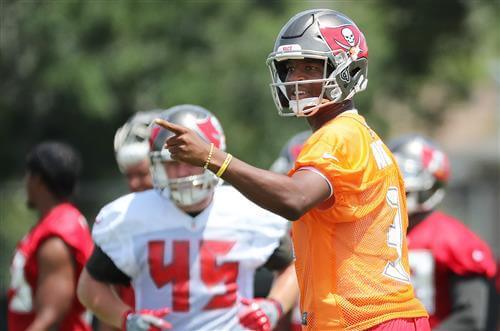 The last pass thrown by Jameis Winston in a regular-season game was his best. The perfectly arced, 39-yard strike to Chris Godwin for a touchdown with nine seconds left gave the Bucs a 31-24 win over New Orleans at Raymond James Stadium on New Year's Eve.
But one big question looms for the Bucs entering summer break: how long before Winston throws another pass in a game that matters?
The NFL's investigation into an allegation that Winston groped a 26-year-old female Uber driver has entered its eighth month.
"This remains under review,'' NFL spokesman Brian McCarthy said of the Winston probe.
In six weeks, the Bucs report to training camp, and they still may not know whether Winston faces any disciplinary action under the league's personal conduct policy.
Winston has denied any wrongdoing. The driver, identified only as "Kate" in a Buzzfeed article that broke the news, said that on March 13, 2016, in Scottsdale, Ariz., Winston "reached over and he just grabbed my crotch." She said he kept his hand there for three to five seconds and removed it only after she said, "What's up with that?"
She reported the incident the next day to Uber, which informed Winston that his account was suspended.
Eagles cornerback Ronald Darby, Winston's teammate at Florida State, has said he was with Winston in the car that night and nothing happened.
Winston won't comment on the investigation.