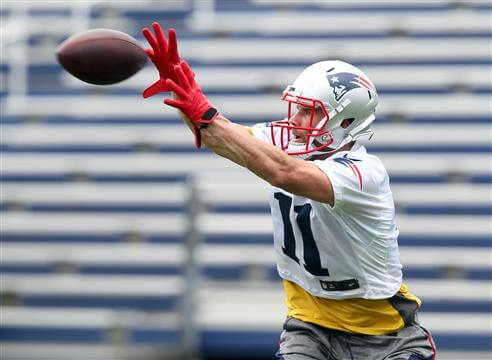 Did the NFL fail to follow proper protocol while administering Julian Edelman's performance-enhancing drug test? That's reportedly what the New England Patriots wide receiver is claiming.
Edelman, who is facing a four-game suspension for violating the NFL's PED policy, "plans to mount a vigorous defense" at his appeal hearing Monday, according to a report from ESPN's Dan Graziano.
"As the MMQB reported a few days (after news of the suspension broke June 7), the substance for which Edelman tested positive wasn't one the league's drug testers recognized," Graziano wrote early Monday morning. "That remains one of two key issues at the heart of his appeal.
"The other, according to a source, involves a mishandling of the documentation and delivery of Edelman's test results. During the course of the investigation, it was learned that the NFL had made mistakes in the manner in which those test results were handled. Edelman is arguing that the mishandling of the evidence is one of the reasons he should be exonerated."