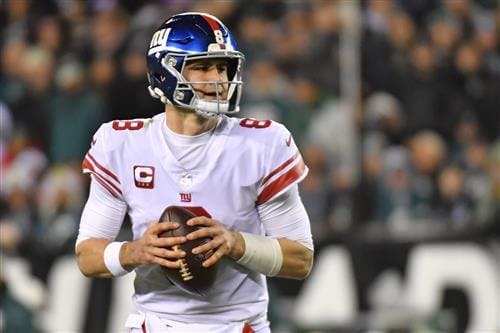 This was supposed to be the year the quarterback carousel slowed down, as Tom Brady, Matthew Stafford, and Russell Wilson changing teams in consecutive offseasons set a high bar for winter action.
But the NFL offseason never disappoints. The drama has ramped up considerably of late, and the market is taking shape in such a way that could see more star passers on the move than ever.
Let's dive into the outlook for a number of big-name quarterbacks who could be available in the coming months and make a few predictions on where they'll be playing this fall.
Tom Brady
All eyes, first and foremost, will be on the GOAT. Brady has a decision to make about his future, and it appears that even he doesn't know what he's going to do. Like it or not, it'll be the story of the offseason.
Retirement is surely on the table at 45 years old; there isn't a whole lot left to accomplish when you've already got seven rings. The question is whether Brady would be able to stomach calling it a career on the heels of a frustrating season in Tampa Bay. That can't be the way he wants to go out.
Remember: Brady had reportedly been orchestrating an exit from Tampa Bay last offseason, setting his sights on Miami with Sean Payton. While such a move could be off the table this time around, with the Dolphins seemingly committed to Tua Tagovailoa, it's only fair to assume he'll again seek a change of scenery in pursuit of one last Super Bowl. Before you rule that out, consider how many of us thought he was done after his last season in New England.
Brady's market as a free agent likely won't be as competitive as the inevitable agent leaks would have you believe. We heard plenty of hype last time around, only for one team after another to pass, with Brady left to choose between the Bucs and the Chargers. Are there really going to be that many other clubs in a race for his services now that he's three years older?
The smart money is on this one being a two-horse race, with the Raiders front and center. Brady's fit in Las Vegas is obvious - reuniting with old friend and former Patriots offensive coordinator Josh McDaniels has to be an enticing option, especially with a star-studded group of playmakers in place. But can joining the Raiders guarantee a better result than this year in Tampa Bay? This roster would need plenty of work to compete in 2023, even if Brady signs for cheap.
That's not even a question with the 49ers. Brady could be the final piece for a San Francisco team that has been so painfully close to a Super Bowl multiple times during the Kyle Shanahan era. Brock Purdy was a nice story down the stretch this year, and he may well have a future as a starter, but his status will be clouded by looming elbow surgery. Even if he's healthy for training camp, the 49ers can't afford to make the same mistake they did last time and pass on a Brady homecoming to bet on inferior in-house options.
Prediction: Tom Brady signs 1-year deal with 49ers
Aaron Rodgers
Rodgers making cryptic statements about his future, leaving open the possibility of either retirement or playing elsewhere, has become a yearly tradition. It's tough to read too much into his comments when they've only ever resulted in a return to Green Bay, but this time feels different.
Rodgers followed up his back-to-back MVP seasons with a subpar 2022 campaign, posting the worst QBR of his career while adjusting to a young receiving corps. The offensive struggles were a major factor in Green Bay missing the playoffs for the first time since 2018.
There's a clear case for the Packers to take advantage of the opportunity to make a change, trading Rodgers away while they still can and giving former first-rounder Jordan Love a chance to show what he can do on the last year of his rookie contract. ESPN's Adam Schefter reported Sunday that league sources believe the Packers indeed prefer to move on from Rodgers this offseason and that he's aware of the organization's outlook.
The uncertainty surrounding his future may become a matter of whether he wants to retire or play elsewhere. It seems like it would be more of a toss-up for Rodgers than Brady, given the frequency with which he's flirted with walking away, but let's apply the same logic here: He can't be too excited about the idea of this past season being the way he finishes a Hall of Fame career.
Finding a trade fit for Rodgers is a difficult task, as the Packers may soon find out. The Jets will be a popular pick, and a fun one, considering they're only a quarterback away from Super Bowl contention. But it's long been thought that Rodgers would prefer the West Coast if he ever leaves Green Bay. Florham Park is as far east as it gets, and Rodgers has been outspoken against NFL venues using artificial turf, as is the case at MetLife Stadium.
Might this all lead to a reunion with Davante Adams in Las Vegas? The Packers will make it known that they want multiple first-round picks for Rodgers in a trade but may have trouble landing a significant return with such a limited market, a gigantic contract, and the possibility that he opts for retirement this time next year. The Raiders pivoting to Rodgers after striking out on Brady could make sense if they can swing a deal without giving up the No. 7 overall pick.
Prediction: Aaron Rodgers traded to Raiders for conditional Day 2 picks