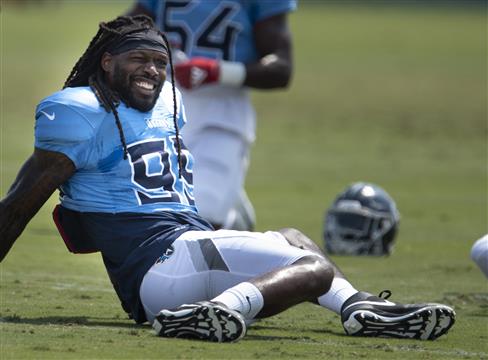 We're in the midst of the 2021 NFL offseason, and the start of 2022 free agency is a long way away. However, it's not too early to look ahead at the players likely to be available.
You can bet teams are eyeing potential 2022 free-agent targets, while players are anticipating big paydays. Some players, though, have work to do to draw the interest of teams and maximize their value.
We'll examine eight players who are scheduled to hit the open market next year but have plenty to prove this season. Whether they're trying to reestablish themselves as starters, overcome injuries or prove that prominent past production was no fluke, they have plenty riding on the 2021 regular season.
Players are listed in alphabetical order.
Edge Jadeveon Clowney
Pass-rusher and 2014 No. 1 overall pick Jadeveon Clowney signed a one-year deal with the Cleveland Browns earlier this week. He's still 28 years old and will likely look to parlay that deal into the big second contract he has never received.
For that to happen, though, he will have to prove two things.
He'll first have to prove he can stay healthy. He has missed 29 games in seven seasons and missed eight last year with a torn meniscus. He has only played a full 16-game season once and will have to show he can stay on the field to earn trust from potential employers.
Clowney will also have to prove he can consistently impact games. He can wreak havoc along the defensive front, but he's not a sack-racker—he's never had double-digit sacks in a campaign. He will need to turn pressures into quarterback takedowns and run stops into lost yardage if he's going to regain a reputation as a difference-maker.
If Clowney cannot reestablish himself while playing opposite All-Pro Myles Garrett, it's probably never going to happen.
WR Will Fuller V
Like Clowney, wideout Will Fuller V is a former first-round pick of the Houston Texans who caries a fair amount of injury concern. He too has never played a full 16-game schedule and is playing on a one-year "prove-it" deal.
This year with the Miami Dolphins, Fuller will need to prove he can stay on the field. He's missed 22 games because of injury in five pro seasons and missed another five in 2020 with a PED suspension that will extend one game into the 2021 season.
If Fuller can stay healthy—and out of trouble—he could be in store for a hefty payday. One of the fastest wideouts in the league, he oozes big-play potential and was establishing himself as a borderline No. 1 receiver last season before the suspension.
In 11 games, he racked up 879 yards and eight touchdowns on 16.6 yards per reception. That put him on pace for 1,279 yards and 12 touchdowns.
If Fuller can prove himself, he could easily earn a deal similar to the four-year, $72 million contract Kenny Golladay received this offseason.
CB Stephon Gilmore
New England Patriots cornerback Stephon Gilmore may not reach free agency next offseason. He could receive an extension this year or be traded to another team. Even he doesn't know how things will play out.
"It's out of my control," he told Ben Volin of the Boston Globe. "I'm just happy to be a Patriot right now, and see how it goes."
If Gilmore does hit the open market next year, he'll be 31 years old. However, he could still be in store for a sizable contract—if he can bounce back from a disappointing 2020 campaign.
Two years ago, he was the NFL's Defensive Player of the Year. Last season, though, he was simply a great starting cornerback. He was limited to 11 games with one interception after logging six the previous season. His opposing quarterback rating of 75.7 was still Pro Bowl-worthy, but it paled in comparison to a 44.1 rating in 2019.
Gilmore should be looking to prove he's still one of the most valuable defenders at any position in the NFL.
WR Chris Godwin
Tampa Bay Buccaneers wideout Chris Godwin was expected to be one of the league's most coveted receivers in free agency this year, but he never hit the market. Instead, Tampa gave the one-time Pro Bowler the franchise tag.
If Godwin reaches free agency next year and hopes to earn that massive second contract, he'll have to show his remarkable 2019 campaign wasn't an outlier.
He missed two games that season and still finished with 1,333 receiving yards and nine touchdowns. The problem is that 2019 represents Godwin's only year of elite production. He had 842 yards the year before and 840 yards in 12 games this past season.
Like many players on this list, he will have to prove he can stay healthy after missing six games over the past two seasons. More importantly, he'll have to show he can perform as he did two years ago consistently. If he can, he could become a receiver-needy team's top offseason target.